Thom Yorke Defends Radiohead's Decision To Play In Israel
12 July 2017, 15:54 | Updated: 12 July 2017, 15:55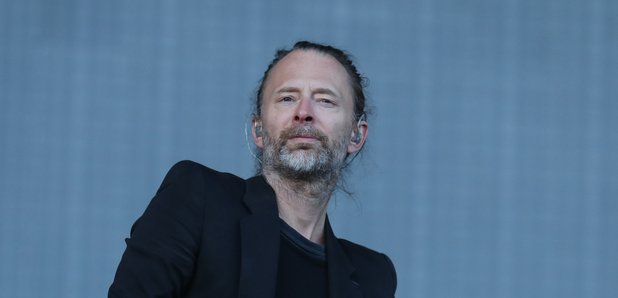 The Karma Police singer has responded to director Ken Loach's criticism of the band's upcoming gig in the country.
Thom Yorke has defended Radiohead's decision to perform in Israel, insisting people who hate Donald Trump still play in the US.
The 48-year-old singer has hit back at British director Ken Loach, who has signed the petition urging them to cancel their planned performance in Tel Aviv on 19 July, after he tweeted urging them not to support the oppression of Palestinians.
Linking to his article in The Independent, Loach posted on Twitter: "Radiohead need to decide if they stand with the oppressed or the oppressor. The choice is simple. @thomyorke".
However, the Creep singer sent a personalised response to the I, Daniel Blake director, insisting they are in no way backing the country's leader Benjamin Netanyahu.
July 11, 2017
He fired back: "Playing in a country isn't the same as endorsing its government. We've played in Israel for over 20 years through a succession of governments, some more liberal than others.
"As we have in America. We do not endorse Netanyahu any more than Trump, but we still play in America. Music, art and academia is about crossing boarders not building them, about open minds not closed ones, about shared humanity, dialogue, and freedom of expression. I hope that makes it clear Ken.
The filmmaker is among 47 high-profile celebrities on the petition, along with Pink Floyd's Roger Waters and directors Peter Kosminsky and actresses Maxine Peake and Juliet Stephenson and many more, who have signed a letter with Artists for Palestine UK in the hope the band will reconsider the concert and join the on-going cultural boycott of the country.
The letter reads: "I'm asking you not to perform in Israel, Palestinians have appealed to you to take one small step to help pressure Israel to end its violation of basic rights and international law. Since Radiohead campaigns for freedom to the Tibetans, we're wondering why you'd turn down a request to stand up for another people under foreign occupation.
"Surely if making a stand against the politics of division, of discrimination and of hate means anything at all, it means standing against it everywhere - and that has to include what happens to Palestinians every day."
Loach previously said the group should pull the gig out of "their own self-respect".
The group's guitarist Jonny Greenwood - who is also joined by Colin Greenwood, Ed O' Brien and Philip Selway in the band - has links to Israel as he is married to Israeli artist Sharon Katan.
Prior to this, in 2015 a petition was started calling on a boycott of the country until the "colonial oppression of Palestinians" was over.
Radiohead are not the only band to have been told by Waters that they shouldn't perform in Tel Aviv.
Last November, the Another Brick in the Wall rocker signed another open letter to stop Chemical Brothers performing along with 7,000 others.
Watch Radiohead play Creep at Glastonbury 2017: