WATCH: Radiohead Play Longest Set In Over 10 Years At Israel Gig
20 July 2017, 17:27 | Updated: 20 July 2017, 17:36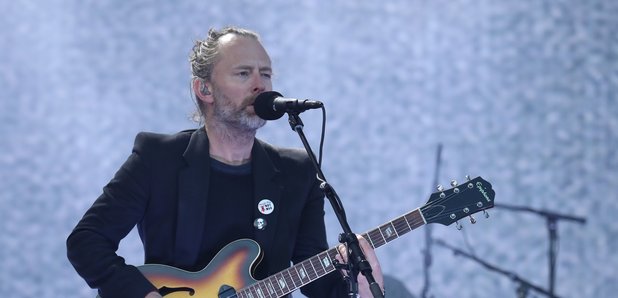 Thom Yorke and co. went ahead with the concert in Tel Aviv, treating fans to a lengthy crowd-pleasing set.
Radiohead performed a show in Israel last night (19 July), despite protests to axe the gig.
The band played 28 songs at Yarkon Park in Tel Aviv, marking their longest gig in over a decade, after ignoring calls from stars such as British director Ken Loach and Roger Waters to call off the event over human rights violations in the country.
Thom Yorke and co. performed a set of greatest hits, including Creep and No Surprises, before concluding their second encore with their 1997 song Karma Police.
Watch them play Creep below:
Last week, Thom - who is joined in the band by Jonny Greenwood, Ed O'Brien, Colin Greenwood and Philip Selway - was involved with a war of words with Ken over the concert after the filmmaker tweeted urging them not to support the oppression of Palestinians.
He wrote: "Radiohead need to decide if they stand with the oppressed or the oppressor. The choice is simple. @thomyorke"
But Thom fired back, tweeting: "Playing in a country isn't the same as endorsing its government. We've played in Israel for over 20 years through a succession of governments, some more liberal than others.
"As we have in America. We do not endorse Netanyahu any more than Trump, but we still play in America. Music, art and academia is about crossing boarders not building them, about open minds not closed ones, about shared humanity, dialogue, and freedom of expression. I hope that makes it clear Ken. (sic)"
July 11, 2017
The Tel Aviv gig marked the end of Radiohead's three-month world tour to support their latest album, A Moon Shaped Pool.
The band previously headlined Glastonbury festival, where they also treated fans to an OK Computer-heavy setlist and played their infamous Pablo Honey track.
See Radiohead's setlist below, courtesy of setlist.fm:
1. Daydreaming
2. Lucky
3. Ful Stop
4. Airbag
5. 15 Step
6. Myxomatosis
7. All I Need
8. Pyramid Song
9. Everything in Its Right Place
10. Let Down
11. Bloom
12. Identikit
13. Weird Fishes/Arpeggi
14. The Numbers
15. 2 + 2 = 5
16. Bodysnatchers
17. Idioteque
Encore:
18. No Surprises
19. Nude
20. Like Spinning Plates
21. Lotus Flower
22. Paranoid Android
23. Reckoner
Encore 2:
24. Creep
25. The Bends
26. There There
27. Karma Police