WATCH: Has Thom Yorke Revealed Two New Radiohead Songs?
7 December 2015, 16:27 | Updated: 8 December 2015, 10:08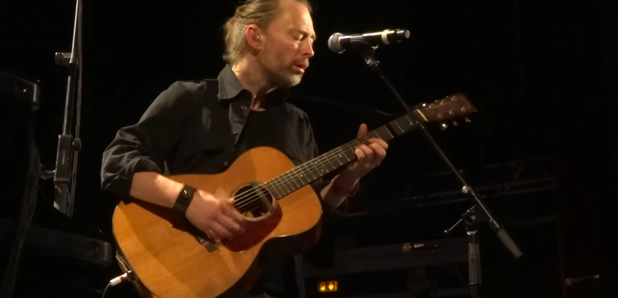 The Radiohead frontman performed new tracks, Silent Spring and Desert Island Disk in Paris.
Fans are speculating that Thom Yorke debuted two new Radiohead tracks in Paris this weekend. The 47-year-old played the Pathway Through Paris event at Le Trianon, which was organised alongside the city's UN Climate Change Conference.
After telling the crowd he'd be playing two new songs, the Radiohead frontman gave a touching acoustic performance of Silent Spring.
Stumbling halfway through at 2:28, he told the crowd: "This is Jonny's bit, so I can't play it," referring to Radiohead guitarist Jonny Greenwood.
The singer then went on to perform a track called Desert Island Disk, to a captivated audience.
It's no secret that the band have been working on new material together, with Radiohead guitarist Jonny Greenwood putting the record straight after a "mistranslation" led to reports suggesting their album was complete.
Taking to his Twitter he assured fans that they'd made "lots" of material, which they're reviewing and "hope" to tour.
@coslive ...to see if it's any good. And we HOPE to tour next year: no plans confirmed yet. Sorry for the over enthusiastic translator....:/

— Jonny Greenwood (@JnnyG) October 15, 2015
No official statement has been made confirming if the album is now wrapped, but if Silent Spring and Desert Island Disk are anything to go by, we could be looking at another absolute classic Radiohead album!