WATCH: QOTSA Share The Way You Used To do BTS Video
7 September 2017, 12:27 | Updated: 7 September 2017, 16:56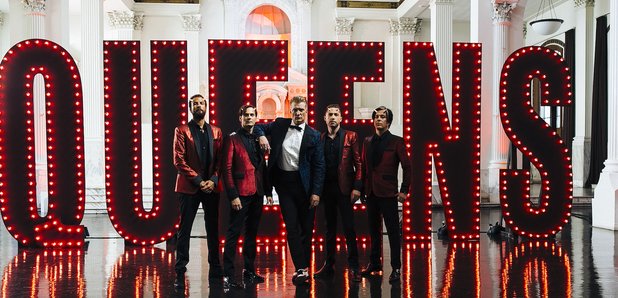 Go behind the scenes with Josh Homme and co. on the dance-inspired promo for their latest single.
Queens Of The Stone Age have unveiled a behind-the-scenes look at The Way You Used To Do.
Watch it here:
The Josh Homme-conceived and Jonas Akerlund-directed video sees the frontman take to the dancefloor to show off his best moves, which appear to culminate in a dark, satanic ritual.
According to DIY, the promo pays homage to American Jazz singer and bandleader Cab Calloway, and the 1941 lindy hop and swing dance film Hellzapoppin''.
Speaking of the clip, Homme said: "It's our way of paying tribute to Cab Calloway and the film Hellzapoppin'. I fully realize that may be a little more than some are open to, and that's perfectly fine with me. There's the door. If some of the more close-minded are gently pruned, that just leaves more room on the dance floor for the open-minded ones to get loose. That's been the spirit of Queens Of The Stone Age and the space we've worked to create from day one".
See a clip of the famously frenetic film here:
Credit: YouTube/SwingcatVVB/Hellzapoppin'
Queens Of The Stone Age's Villains album is set for release on 25 August 2017.
See a teaser for the record, featuring its producer Mark Ronson below:
Speaking about the new sound of the LP, Homme told Radio X's Gordon Smart: "It dawned on me that if you're lucky enough to have a sound that's your own, if you're not careful, by the seventh record you could become parody, like a cartoon character on the wall, you know?
"So I think this record's about hanging on to what's important about us, but re-appropriating how that sounds, you know what I mean?"
See their Villains UK tour dates:
16 April - Glasgow - Hydro Arena
17 April - Dublin - O2 Arena
18 April - Belfast - Odyssey
20 April - Manchester - MEN Arena
21 April - Birmingham - NIA
22 April - London - Wembley Arena
23 April - London - Wembley Arena
Watch as Josh Homme describes his very special relationship with Dave Grohl: