WATCH: Josh Homme Shows Softer Side In Bedtime Stories
29 September 2017, 12:55 | Updated: 29 September 2017, 19:19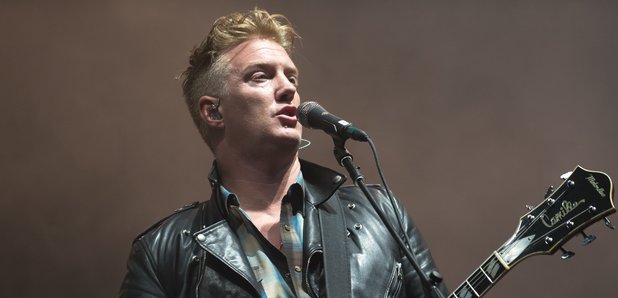 The first clip of the Queens Of The Stone Age frontman on CBeebies has been revealed.
A clip of Josh Homme's appearance on Cbeebies Bedtime Stories has been unveiled.
Earlier this year, it was revealed the Queens Of The Stone Age rocker would appear on the children's program, and now you can take a first look at him in the guise of the storyteller.
Watch the clip below:
Josh Homme and his dragon friend Snoop-Bob Meatball read the @CBeebiesHQ Bedtime Story on 6 October: https://t.co/m2WOqctaq6 pic.twitter.com/7WfqV1n785

— BBC Press Office (@bbcpress) September 29, 2017
In the clip, the No One Knows singer - who shares three children with fellow rocker Brodie Dalle - looks to camera while holding a stuffed toy, saying: "Now, even dragons need to rest. So now it's time for Snoop-Bob Meatball to go to sleep, and you too.
"So snuggle up and dream of far away places, And I'll see you soon for another bedtime story."
The BBC previously revealed that Homme will read Zog by Julia Donaldson, who is also known for The Gruffalo.
In making his appearance the rocker will join the likes of Chris Evans, Suranne Jones, Tom Hardy, Elbow's Guy Garvey, Emilia Fox, Damian Lewis, David Tennant, Tim Peake, James McAvoy and David Hasselhoff to read in "story corner".
The Way You Used To Do singer might be showing his softer side in the clip, but he's known for being a formidable frontman and a bit of a party animal.
Watch Josh Homme's biggest outbursts:
But when he's not scaring fans on the stage, he's causing his fellow rockers to run and hide in the toilet.
This month, Royal Blood's Mike Kerr told Radio X he once hid in a toilet to avoid drinking with the the Feel Good Hit Of The Summer singer.
Watch our video:
"I can't go anywhere near that man without having an unbelievable amount of tequila in my body, admitted the The Figure It Out singer.
"I did hide from him once 'cause I could hear him coming and I was like, 'oh no I'm gonna have to do more tequila,' so I hid in the toilets of the dressing room!"