Queens Of The Stone Age Dropped The Best Album Announcement Ever
14 June 2017, 18:02 | Updated: 14 June 2017, 18:21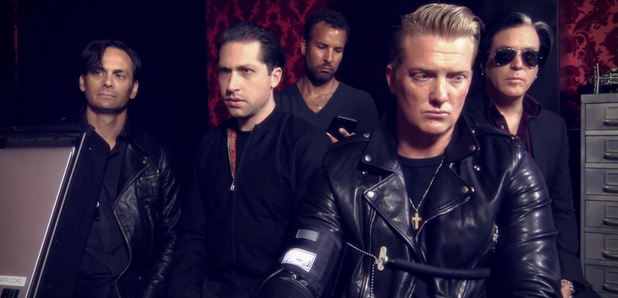 Josh Homme takes a lie detector test and fails… unveiling the new LP title - Villains - and producer - Mark Ronson!
Queens Of The Stone Age have announced details of their forthcoming new album with what must be the greatest bit of PR ever.

In a hilarious clip entitled "Queens Of The Stone Age Face The Truth", frontman Josh Homme is wired up to a lie detector and asked a series of questions by Liam "Whatever" Lynch.

Lynch asks: "Is the new Queens Of The Stone Age album entitled Villains?"

Homme replies with a "No"… but the polygraph confirms he's lying.

Lynch continues: "Is it true that the new album was produced by none other than Mark Ronson?"

"Who?" asks Homme.

"He's also a well-known DJ and he's standing right there," says Lynch, revealing the hugely-successful producer of artists like Adele, Lady Gaga and Amy Winehouse amongst others, standing in the corner of the room.

The "interrogation" even includes a clip of a song called Feet Don't Fail Me, taken from the LP, and concludes with a statement saying that Villains is "honestly, the best album ever".

Which the polygraph confirms is true!

Villains is expected to be released later this summer.