Josh Homme Posts Rant Following The Death Of Motörhead's Lemmy
29 December 2015, 11:58 | Updated: 29 December 2015, 18:01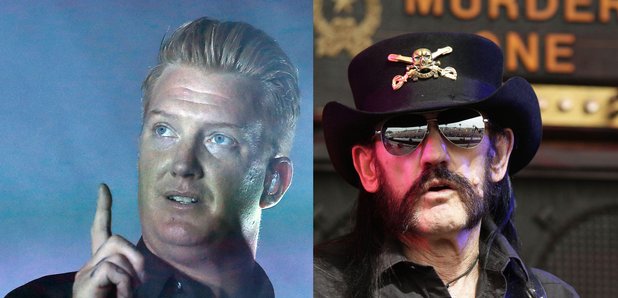 The Queens Of The Stone Age singer called the late bassist "one of a kind" and "the genuine article".
Josh Homme has posted a lengthy tribute to Motörhead frontman Lemmy, praising his authenticity, following the news of his death today.
The Queens Of The Stone Age frontman shared an angry and passionate message on the band's official Instagram page, revealing the "genuine" traits the rocker possessed and condemning "posers" who are "desperate for fame".
The No One Knows rocker wrote: Actually, I'm pissed off Lem is dead. This sucks. One of the last REAL rock n roll motherfuckers has crossed over & I miss him. He was true to himself without question.
"He knew, there was no other pathway. A no bullshit, one of a kind, sharp tongued, hard livin', un-PC, stylish, hilarious & flat out genuine badass leader. He didn't give a fuck about yer peanut gallery, your anonymous opinion in the comment section or your fragile fucking sensibilities.
He added: "The rest of these posers are trying to sell you water & champagne or are "building their brand"... Just Fucking snake oil salesmen. Toads. Greedy jive ass turkeys. Panderers. Hacks. Followers. Desperate for fame"
See his fiery post in full below:
Lemmy - real name Ian Kilmister - passed away after just learning he had cancer on Boxing Day 2015.
Stars from across the world of rock have commented on the sad passing of the Ace Of Spades Rocker, with Ozzy Osburne, Foo Fighters, Metallica, Stereophonics and more paying tribute.
See some of their tweets below:
We've lost a friend & legend. My heart is broken. RIP Lemmy. Born To Lose, Lived To Win. https://t.co/6KJ4cBCNfH @myMotorhead

— Foo Fighters (@foofighters) December 29, 2015
Things just got really f*ckin' loud in Heaven xxx #lemmy

— Clint Boon (@therealboon) December 29, 2015
Lost one of my best friends, Lemmy, today. He will be sadly missed. He was a warrior and a legend. I will see you on the other side.

— Ozzy Osbourne (@OzzyOsbourne) December 29, 2015
Lemmy, you are one of the primary reasons this band exists. We're forever grateful for all of your inspiration. RIP pic.twitter.com/WC1csn5F5x

— Metallica (@Metallica) December 29, 2015
December 29, 2015
Rest In Paradise Ian Lemmy Kilmister @myMotorhead

— THE CULT (@officialcult) December 29, 2015
RIP Lemmy. Rock n' Roll Legend! pic.twitter.com/sZoZG6nFVZ

— stereophonics (@stereophonics) December 29, 2015
I'll miss you buddy and our conversations. You were always a pilar of dignity. RIP #Lemmy pic.twitter.com/da7YV08V1W

—Nikki Sixx(@NikkiSixx) December 29, 2015
Lemmy: Rest In Peace, my friend. pic.twitter.com/2M6VPiBGyE

— Gene Simmons (@genesimmons) December 29, 2015
Oh my. Lemmy got let in on the big secret. One of the greatest rockers of all time. Amazingly unique incredible bass player. My hero. Wow.

— Flea (@flea333) December 29, 2015