Josh Homme Shares QOTSA Fan Video For Eagles Of Death Metal Following Paris Attacks
14 December 2015, 14:36 | Updated: 14 December 2015, 15:06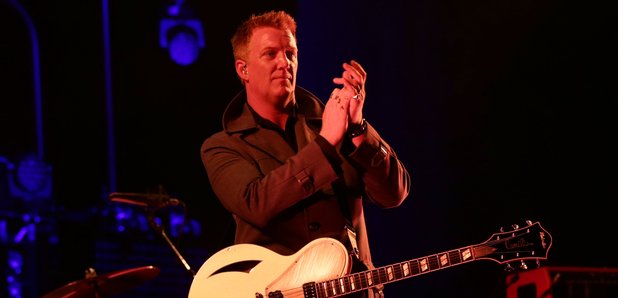 The singer is "proud" and "humbled" to receive the tribute from Queens Of The Stone Age fans.
Josh Homme has shared a tribute video from Queens Of The Stone Age fans to the Eagles Of Death Metal, following the Paris terrorist attacks, which saw 90 people killed at the Bataclan.
The QOTSA frontman and Eagles Of Death Metal founder shared a video link on the official Queens Of The Stone Age Instagram page.
The two-minute clip, entitled, A Message For Eagles Of Death Metal, sees fans from "all around the world," show their support with a touching tribute, which they read line by line.
Watch the tribute video from the "Queens Of The Stone Age family" below:
Clearly moved by the tribute, Josh Homme captioned his post, : I think I'm one of the first in our group to see this. I find it difficult to put into words how this video makes me feel. I'm proud to be among you, part of you, one of you."
He added: "Thank you for this kind & generous gift. It means the world to me. I thank you with everything I have. I am humbled by you. I am in awe of you. What you have done, together? I will never forget this gift of kindness. Thank you."
Last week, Eagles Of Death Metal made an emotional return to Paris, appearing on stage with U2 to perform Patti Smith's People Have The Power and sing their track I Love You All The Time.
The band also bravely returned to the Bataclan just one month after their gig, to lay flowers and pay their respects among the tributes.