Why Dave Grohl Was Asked To Leave QOTSA's Studio...
3 August 2017, 14:03 | Updated: 24 August 2017, 16:12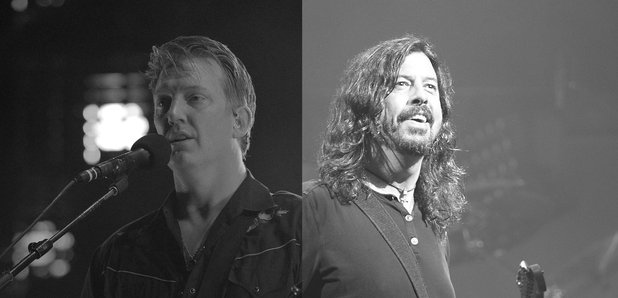 Queens Of The Stone Age made their Villains LP in close proximity to the Foo Fighters, but Josh Homme has revealed one night led to the rocker getting the boot.
Josh Homme has explained why Dave Grohl got thrown out of their studio during the recording of their new album.
The Foo Fighters frontman previously revealed his band recorded their Concrete And Gold album close to where Queens Of The Stone Age were creating their Villains LP, and that the bands "inspired each other".
However, as NME reports, it wasn't all smooth sailing and Homme told Q Magazine that the Foos frontman was chucked out of their studio after coming in a bit "tipsy".
The QOTSA frontman explained that he didn't even realise what was happening at the time, as he was "struggling" with the vocals on new track, Fortress, when the Learn To Fly rocker came in.
Because Mark Ronson - who produced the record - didn't want to make anything worse, he turfed Grohl out before Homme could even notice.
"I didn't see it because I was [in the studio] wrestling an alligator, but in this case Ronson is the new guy and he was very sweet and was protecting me," explained Homme. "Maybe in his own mind he thought he was protecting Dave too."
Queens Of The Stone Age's Villains LP is set for release on 25 August.
See a teaser for their LP here:
Meanwhile, it has been confirmed that The Beatles legend Paul McCartney drums on their new album, with drummer Taylor Hawkins telling ET Canada: "He hadn't even heard the song. He comes in and Dave picked up and acoustic [guitar] and showed him real quick. He sat on his special drum set that his tech set up for him. I sat there with a drumstick conducting. He did two takes."
Concrete and Gold is released on 15 September via RCA Records, and so far the band have unveiled lead single, Run, as well as several album tracks.
See them perform an acoustic version of The Sky Is A Neighborhood, courtesy of MusicSF below:
Watch this Foo Fighters' fan's epic version of Run.
See Foo Fighters dedicate their Everlong anthem to late fan Laura Plane, who sadly lost her battle with cancer in May:
Find out more about the album here: