Josh Homme: Things Aren't Supposed To Be Easy
6 September 2013, 08:00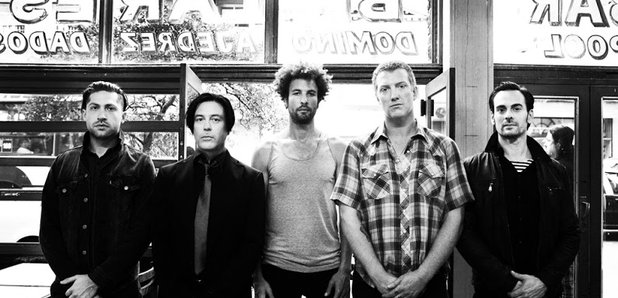 Josh Homme has been telling Radio X about the struggle behind the making of Queens Of The Stone Age's latest album …Like Clockwork, and that their live dates would be a final "release" of the tensions that went into the album.
Speaking to Radio X's Ian Camfield before their appearance at the iTunes Festival tonight (September 6), Homme described how a routine knee operation in 2010 saw the frontman "die" for a moment… and then spend the next four months laid up in bed and suffering from depression.

"It was tough," he explained. "But I don't think things are supposed to be easy. There is no short cut. It's just part of the exploration of trying to figure stuff out. But all that's gone now."

He also described how launching himself into the supergroup Them Crooked Vultures with Dave Grohl and former Led Zeppelin man John Paul Jones immediately prior to his illness didn't help matters.

"Before [Them Crooked Vultures] started, I was exhausted. And by the time it was over, I was... double-exhausted, I guess? When you're a workaholic, a workaholic's work is never done. I have a knack for going way beyond when I should stop."

Nevertheless, the subsequent album, …Like Clockwork, has been gaining some of the best reviews of the band's career.
"What we've kind of gleaned from this is that when things are terrible, people are really excited about it. Thank God for mental illness, right?"
Homme assured Radio X that the next QOTSA album would be "about puppies, ponies that swim and birthday cake."

The band are due to play London's Roundhouse as part of this year's iTunes Festival this evening (September 6) and you'll be able to hear the show broadcast live on Radio X from 7pm.
You can hear the full interview with Josh Homme and Dean Fertita of Queens Of The Stone Age below.