WATCH: This Unseen Queen Footage Is Epic
12 September 2017, 15:45 | Updated: 12 September 2017, 17:40
The band have shared a trailer for the 40th anniversary edition of News Of The World, featuring never-before seen-footage from the archives.
Queen have unveiled the trailer for the 40th anniversary release of their News Of The World album.
The clip features never-before-seen footage of the band from a documentary that features as part of the Deluxe release.
Watch it here:
News Of The World - which is the band's sixth studio album - was first released on 28 October 1977 and includes the enduring anthems We Will Rock You and We Are The Champions.
Its special edition boxset, which is set for release on 17 November this year, will include the original album on CD, plus two further CDs of recently unearthed out-takes and rarities from the band's archives, one of which is a newly created 'alternative' version of the whole album – Raw Sessions.
See the deluxe boxset below: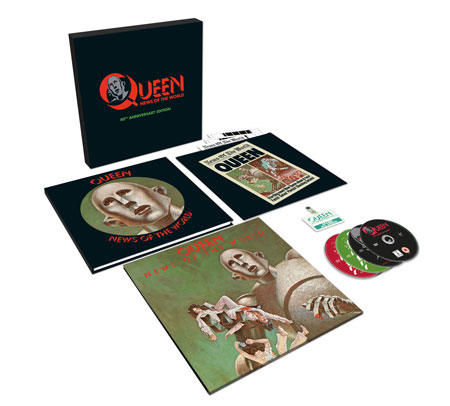 The package is completed by a pure analogue re-cut of the original vinyl LP, direct from the unmastered analogue master mix tapes, and a brand new one-hour DVD documentary, Queen : The American Dream, created from backstage material filmed during Queen's 1977 USA News of the World tour.
The special edition boxset can be pre-ordered here.
Meanwhile, the first images of Rami Malek as Freddie Mercury in Bohemian Rhapsody have been released.
See an image, courtesy of Entertainment Weekly:
The Queen biopic, which appears to have a release date of Christmas Day 2017 - will also star Gwilym Lee, Ben Hardy and Jospeh Mazzello, who will play Brian May, Roger Taylor and John Deacon respectively.
Allen Leech has also been cast in the role of Mercury's personal manager, Paul Prenter.
Meanwhile, it's been reported by Deadline, that Mike Myers is in talks to star in the biopic, though the character he'll play is yet to be revealed.
Queen: News of the World – 40th Anniversary Edition – Track Listing:
VINYL LP: The Original News of the World Album – new Pure Analogue Cut.
Side One
1. We Will Rock You (May) 2:01
2. We Are The Champions (Mercury) 2:59
3. Sheer Heart Attack (Taylor) 3:26
4. All Dead, All Dead (May) 3:10
5. Spread Your Wings (Deacon) 4:34
6. Fight From The Inside (Taylor) 3:03
Side Two
1. Get Down, Make Love (Mercury) 3:51
2. Sleeping On The Sidewalk (May) 3:06
3. Who Needs You (Deacon) 3:05
4. It's Late (May) 6.26
5. My Melancholy Blues (Mercury) 3:29
CD 1: The Original Album (Bob Ludwig 2011 master)
1. We Will Rock You (May) 2:01
2. We Are The Champions (Mercury) 2:59
3. Sheer Heart Attack (Taylor) 3:26
4. All Dead, All Dead (May) 3:10
5. Spread Your Wings (Deacon) 4:34
6. Fight From The Inside (Taylor) 3:03
7. Get Down, Make Love (Mercury) 3:51
8. Sleeping On The Sidewalk (May) 3:06
9. Who Needs You (Deacon) 3:05
10. It's Late (May) 6.26
11. My Melancholy Blues (Mercury) 3:29
CD2: NEWS OF THE WORLD : RAW SESSIONS
1. We Will Rock You (Alternative Version) 2:29
2. We Are The Champions (Alternative Version) 4:33
3. Sheer Heart Attack (Original Rough Mix) 4:17
4. All Dead, All Dead (Original Rough Mix) 3:08
5. Spread Your Wings (Alternative Take) 4:56
6. Fight From The Inside (Demo Vocal Version) 3:08
7. Get Down, Make Love (Early Take) 4:02
8. Sleeping On The Sidewalk (Live in the USA, 1977) 3:49
9. Who Needs You (Acoustic Take) 2:46
10. It's Late (Alternative Version) 6:44
11. My Melancholy Blues (Original Rough Mix) 3:36
CD3: NEWS OF THE WORLD : BONUS TRACKS
1. Feelings Feelings (Take 10, July 1977) 1:55
2. We Will Rock You (BBC Session) 1:36
3. We Will Rock You (Fast) (BBC Session) 2:52
4. Spread Your Wings (BBC Session) 5:33
5. It's Late (BBC Session) 6:39
6. My Melancholy Blues (BBC Session) 3:13
7. We Will Rock You (Backing Track) 2:03
8. We Are The Champions (Backing Track) 2:59
9. Spread Your Wings (Instrumental) 4:23
10. Fight From The Inside (Instrumental) 3:02
11. Get Down, Make Love (Instrumental) 3:49
12. It's Late (USA Radio Edit 1978) 3:52
13. Sheer Heart Attack (Live in Paris 1979) 3:35
14. We Will Rock You (Live in Tokyo 1982) 2:55
15. My Melancholy Blues (Live in Houston 1977) 3:48
16. Get Down, Make Love (Live in Montreal 1981) 4:35
17. Spread Your Wings (Live in Europe 1979) 5:20
18. We Will Rock You (Live at the MK Bowl 1982) 2:08
19. We Are The Champions (Live at the MK Bowl 1982) 3:32
DVD: QUEEN : THE AMERICAN DREAM (One hour)