Queen: "What Great Taste Radio X Listeners Have!"
18 April 2017, 10:42 | Updated: 2 March 2018, 13:16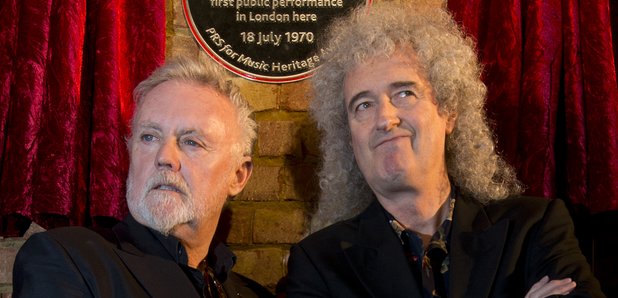 Brian May and Roger Taylor respond to the news that their track Bohemian Rhapsody was named the Best British Song Of All Time by Radio X listeners.
Queen's Bohemian Rhapsody has been named the ultimate British song according to Radio X listeners. In our second annual poll of Best Of British, the classic 1975 track knocked Wonderwall by Oasis off the top spot.
When given the news, Queen drummer Roger Taylor replied: "What great taste your listeners have!"
Guitarist Brian May thanked Radio X listeners and recalled: "Who could have known in 1975 that the sounds on that particular piece of recording tape would still be echoing loud and clear in people's hearts over four decades later?"
The Top 100 was revealed on Easter Monday, 25 years since the band staged the iconic Freddie Mercury Tribute Concert at Wembley Stadium on Easter Monday in 1992.
Bohemian Rhapsody was made in 1975 for Queen's fourth studio album, taking up hours of recording time, dozens of overdubs and the impressive vocal range of Mercury, Brian May and Roger Taylor to create a legendary six-minute mix of opera, balladry and heavy rock.
The meaning of Freddie Mercury's lyrics remains unknown, but Brian May later said: "He was a very complex person: flippant and funny on the surface, but he concealed insecurities and problems in squaring up his life with his childhood. I think he put a lot of himself into that song."
Radio X Best Of British Top 20:
1. Queen – Bohemian Rhapsody
2. Oasis – Live Forever
3. Oasis – Wonderwall
4. Oasis – Don't Look Back In Anger
5. The Verve – Bittersweet Symphony
6. Oasis – Champagne Supernova
7. The Stone Roses – I Am The Resurrection
8. Arctic Monkeys – I Bet You Look Good On The Dancefloor
9. David Bowie – Heroes
10. Pulp – Common People
11. David Bowie – Life on Mars?
12. The Stone Roses – Fool's Gold
13. Oasis – Slide Away
14. The Smiths – There Is A Light That Never Goes Out
15. Oasis – Supersonic
16. Led Zeppelin – Stairway To Heaven
17. New Order – Blue Monday
18. The Stone Roses – I Wanna Be Adored
19. Pink Floyd – Wish You Were Here
20. The Rolling Stones – Gimme Shelter

Last year's number one, Wonderwall by Oasis, dropped two places to number three, although Oasis dominated the chart as the most popular British artist with 13 songs in the Top 100, including Live Forever at number two, Wonderwall at number three, Don't Look Back In Anger at number four and Champagne Supernova at number six.