Get Another Look At Rami Malek As Freddie Mercury
18 October 2017, 10:30 | Updated: 18 October 2017, 18:02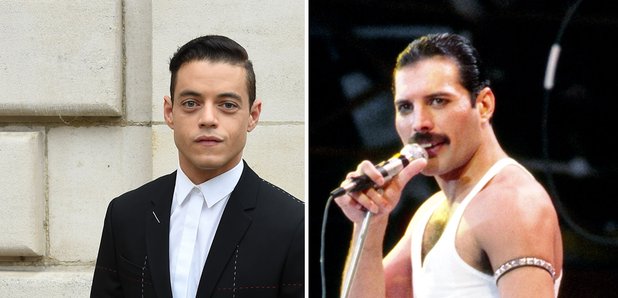 The director of the upcoming Queen biopic has shared a new sneek peak of the actor in his guise as the late frontman.
Bryan Singer has shared an new image of Rami Malek portraying Freddie Mercury in Bohemian Rhapsody, which is due out next year.
Taking to Instagram, the film's helmsman posted the behind-the-scenes snap, writing: "Couldn't help myself and had to post this iPhone pic".
The image sees Malek in another classic Freddie Mercury pose from their 1979 Live Killers tour, donning red leather trousers with his fists held aloft and looking up towards the sky.
It follows a snap which was shared by Entertainment Tonight earlier this year, which depicted the We Are The Champions singer in his famous Live Aid attire.
While the Mr. Robot star will depict the legendary icon, the rest of the band will be played by Gwilym Lee, Ben Hardy and Jospeh Mazzello, who will play Brian May, Roger Taylor and John Deacon respectively
According to Entertainment Weekly, the film is set for release on Christmas Day, 25 December 2018.
Meanwhile, Foo Fighters' Dave Grohl and Queen mega-fan Taylor Hawkins gave Radio X their exclusive reaction to leaked footage of Malek's take on that famous Live Aid performance.
Watch it here:
The Foos drummer - who is a huge fan of Queen and knows the Live Aid footage off by heart - joked: "I based my entire career off it!"
Watching the clip, Grohl gasps: "He does the run! That's amazing!"
"This is gonna be so frickin' weird, man," adds Taylor, joking that he's the ultimate Queen nerd. "I'm gonna be looking at that and saying 'Well, he didn't have those cymbals at Live Aid!'"