English Heritage Honour Freddie Mercury With Blue Plaque
1 September 2016, 14:30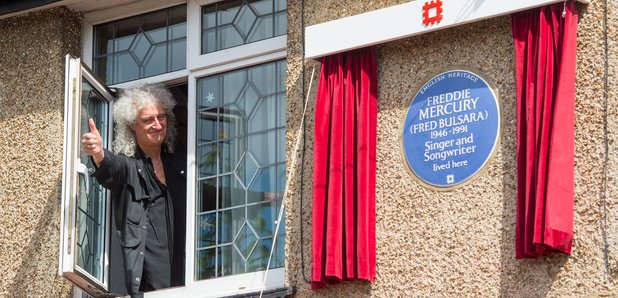 The plaque has been unveiled outside the Queen frontman's first England home, ahead of what would have been his 70th Birthday.
Freddie Mercury has been honoured with a Blue Plaque outside his first ever England home.
English Heritage have awarded the late Queen frontman with the prestigious sign, which is situated at 22 Gladstone Avenue, where his family lived from 1964, and where his future bandmate and Queen guitarist, Brian May, visited him.
See it below: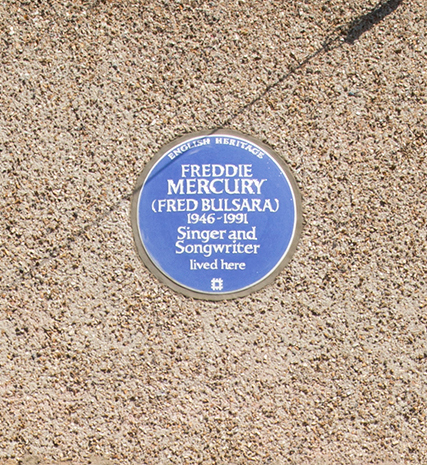 Dr Brian May - who unveiled the plaque with Freddie Mercury's sister, Kashmira Cooke - said: "It is a pleasant duty to help install this little reminder on Freddie's parents' house in Feltham. It was here that I first visited Freddie soon after we had met through a mutual friend.
"We spent most of the day appreciating and analysing in intimate detail the way that Jimi Hendrix had put his recordings together in the studio - listening to Hendrix on vinyl played on Freddie's Dansette record player - which had stereo speakers on opposite sides of the box! Feltham was the childhood neighbourhood for both of us but we never knew it until we met in the cause of music."
Meanwhile, to celebrate what would have been Freddie Mercury's 70th Birthday on Monday, fans across the world are recreating the icon's famous Day-O singalong, with the likes of James Bay, Matt Lucas and Bill Bailey getting involved.
Meanwhile Twitter has created a special emoji for the day where Mercury's famous silhouette will appear whenever the hashtag #FFADAYO is used.
Also being released on Friday is Freddie Mercury - Messenger of the Gods: The Singles, a box set featuring all 13 of Freddie's solo singles on individually coloured vinyl.
Freddie Mercury's 70th Birthday Party will also take place in Montreux, Switzerland, where The Queen Extravaganza will perform.