Primal Scream's Bobby Gillespie: Mick Jagger Floored Me
11 December 2013, 17:41 | Updated: 11 December 2013, 17:45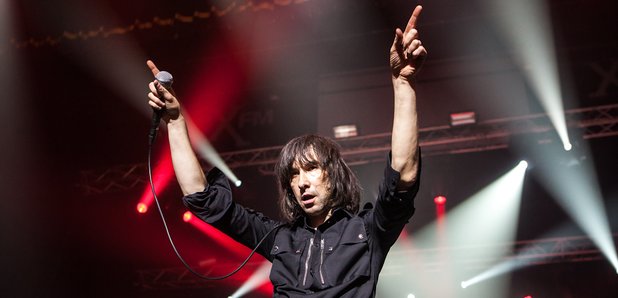 Bobby Gillespie has told Radio X he is upset he didn't get to meet Mick Jagger.
Primal Scream played the main stage at Glastonbury ahead of The Rolling Stones but Bobby admitted he missed out on meeting his hero.

"I never saw Mick. I met Keith, Charlie and Ronnie but I never saw Mick unfortunately," he told Radio X's Clint Boon backstage at Radio X Winter Wonderland Manchester.

Bobby laughed when Clint suggested he should apologise for stealing moves from the Rolling Stones frontman.

"I could have said to him, 'you've taken a few from Tina Turner, James Brown.' It's fine, everybody takes, you've got to take from the best and Jagger's amazing.

"I watched him over two weekends. I watched him at Glastonbury, I watched him at the side of stage, and then I went to Hyde Park a week later and he was incredible. I was floored, the guy was incredible I've got nothing but respect for him he's amazing."

Primal Scream were awarded the Radio X Inspiration Award at last night's event at O2 Apollo Manchester.

The Radio X Inspiration Award is our "Oscar" - previous winners have included The Strokes, Suede, Manic Street Preachers and The Clash.
Listen to the full interview>>