WATCH: Metallica Cover Don't Look Back In Anger In Manchester
30 October 2017, 10:56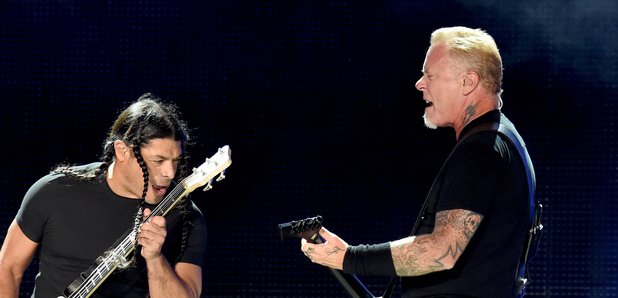 Noel Gallagher has responded to the metal band's tribute during at their Manchester Arena gig.
Metallica have honoured the victims of the Manchester terror attack by performing their own version of Don't Look Back In Anger.
The U.S. took the opportunity to play the Oasis track at their gig in the re-opened Manchester Arena on Saturday (28 October), leading the crowd in a mass singalong.
Watch it below in a video shared by Metallica's Lars Ulrich and Noel Gallagher himself.
Giving it the seal of approval Gallagher shared the video on Instagram, writing: "So it would seem EVERYONE'S doing my thing these days!
Big up The Metal Lickers.."
The Oasis track became an anthem for the city, following the horrific attack which saw 22 killed after a suicide bomber targeted an Ariana Grande concert.
Performing the track at We Are Manchester benefit concert, which saw the venue re-open its doors on Saturday 9 September, Noel called it an "anthem of defiance" and referenced the woman who sparked it all off with her impromptu rendition during the tributes at At. Ann's Square.
Remind yourself of the moment below:
Speaking to Radio X shortly after this attack, the Oasis songsmith told John Kennedy how the song had become much "bigger" than himself and taken on a life of its own.
Watch our interview here:
Photo credit: Getty/Kevin Winter/Staff