Tom DeLonge Calls Liam Gallagher "The Most Punk Dude Ever", Gets Perfect Response
18 August 2016, 17:33 | Updated: 19 August 2016, 10:24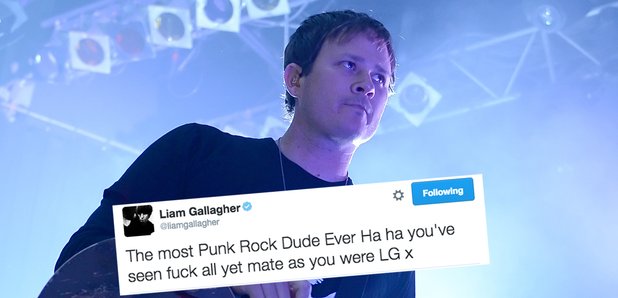 "You've seen f**k all mate", says our man Liam after the Blink-182 man pays tribute to classic Mancunian attitude.
The former Blink-182 man has been describing how his band encountered the Gallaghers at a radio show back in the day. Talking as part of the Ernie Ball video series The Pursuit Of Tone, DeLonge was describing what made "punk rock".
"The doors open up and here come all these guys in trenchcoats and Beatles haircuts. My first reaction is like, Fuck, they look pretty fucking cool, but they're not punk rockers, but whatever."
However, after watching Oasis play, the Blink man described Liam Gallagher bursting into their dressing room and saying: "Are you guys Blink-182? You're the best I've seen in America."
DeLonge continues: "I go, 'You like us?' He says: 'I didn't say that - I said you're the best I've seen in America'.
"I looked at everyone else and I went Oh my god, that's the most punk rock dude I've ever met in my life!"
Liam Gallagher responded to the story with a tweet in a typically humble way: "he most Punk Rock Dude Ever Ha ha you've seen fuck all yet mate as you were LG x"
The most Punk Rock Dude Ever Ha ha you've seen fuck all yet mate as you were LG x

— Liam Gallagher (@liamgallagher) 17 August 2016
Watch the Tom DeLonge interview here: