One Love Manchester Sends Oasis & Coldplay Tracks Into iTunes Charts
5 June 2017, 18:23 | Updated: 5 June 2017, 19:00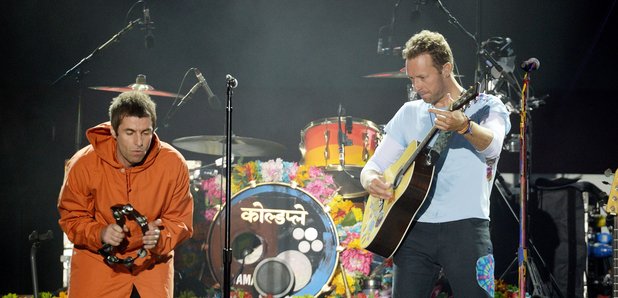 Ariana Grande's re-release of One Last Time is also at the top of the chart, with the original and five more of her tracks back in the Top 40.
Various acts who took part in One Love Manchester have seen their tracks go back into the charts.
The benefit concert, which was held by Ariana Grande to raise money for the victims of the Manchester Terror attack, saw the likes of Liam Gallagher, Coldplay, Miley Cyrus, and Robbie Williams perform alongside the starlet.
As a result Grande's re-release of her One Last Time single is currently at the top of the charts, with the original version of the song close behind in fourth place.
Oasis classic Don't Look Back In Anger - which has become somewhat of a poster song for Manchester following the terror attack - has climbed to eight in the charts while Coldplay's Fix You has reached ninth place.
Watch Chris Martin's performance of Don't Look Back In Anger here:
Live Forever, which was also performed on the night by surprise guest Liam Gallagher, currently stands in 11th place.
Watch the rocker perform the Oasis track accompanied by Chris Martin on guitar here:
Five more of Ariana's songs are now back in the top 40 including Break Free, Side To Side, My Everything, The Way and Be Alright whilst Dang! by Mac Miller - which Ariana performed alongside her rapper boyfriend at the concert - is at number 36.
Don't Dream It's Over by Crowded House - which was covered by Cyrus and Grande on the night - has now climbed up to 42 in the iTunes charts, while Hide and Seek by Imogen Heap has made it into the top 50 too.
Justin Bieber - who also performed at the event - makes an appearance at number two, featuring in Luis Fonsi and Daddy Yankee's track Despacito.
One Direction star Niall Horan's Slow Hands takes third place while the Black Eyed Peas' Where Is The Love, Coldplay and the Chainsmokers' Something Just Like This and Gallagher's new single Wall of Glass are currently in at fifth, sixth and seventh place respectively.
Proceeds from the show are going to the We Love Manchester emergency fund, set up by the British Red Cross and Manchester City Council.