Oasis Reunited On Eastenders? Some Fans Actually Thought So...
30 December 2015, 12:15 | Updated: 30 December 2015, 12:55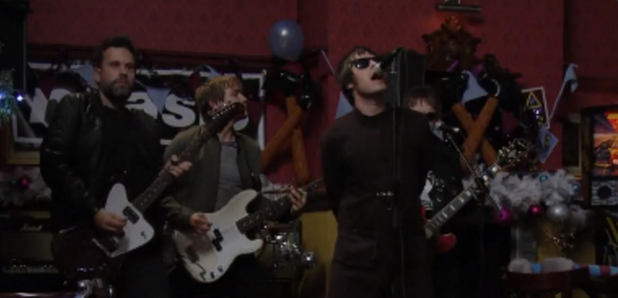 People mistook the Noasis frontman for the real Liam Gallagher at Mick Carter's stag do.
It's one of the most wanted band reunions of the decade, which is probably why when an Oasis tribute band featured on Eastenders, some people thought it was the real deal.
Tribute act Noasis performed on the soap during Mick Carter's stag do on Monday (28 December) and the resemblance between their frontman Liam Gallagher wasn't lost on the audience.
Loveeeeee the oasis tribute band on eastenders ngl, their liam is pretty accurate

— Georgie Lou Punter (@Georgia_punter) December 29, 2015
So much so, that some people thought it was Liam and the band themselves...
Was that really Oasis on #EASTENDERS????

— Madting (@jniceexo) December 28, 2015
my mums just asked was it the real Oasis on eastenders, ya mum they reformed for mick carters stag

— Jack Gallagher (@ImJackG) December 29, 2015
omg EASTENDERS OASIS

— Gigi (@hungrygeorgia) December 29, 2015
Watching eastenders catch up, can't believe oasis was on their

— ❄조디❄ (@PamyuPamyuDesu) December 29, 2015
This guy wasn't convinced, but gave it up to Noasis for doing such a good job nonetheless.
People thinking it was actually Oasis on #EastEnders come on, seriously? Fair play @NoasisOfficial

— Joseph Gallagher (@Joeasis) December 29, 2015
So, while we may not be any closer to an Oasis reunion, we can definitely add some more people who want one on to the list. And if there's any certainty to be taken from all the confusion, it's that after their appearance, Noasis are probably already booked up for the whole of 2016.
See some of the praise for the band below:
Oasis tribute band on Eastenders sound unreal, wanna go The Queen Vic

— Josh Frankland (@_JoshFrankland) December 28, 2015
Man, hearing those Oasis songs courtesy of @NoasisOfficial on Eastenders was a treat! #Memories

— Danny Ashok (@DannyAshok) December 29, 2015
The lead singer in the Oasis tribute band sounds better than Liam Gallagher... #EastEnders

— Mr O aka Piano Man™ (@platinummind) December 28, 2015
Watch the tribute band in action at Isle Of Wight Festival 2015.