WATCH: Manchester Crowd Sing Don't Look Back In Anger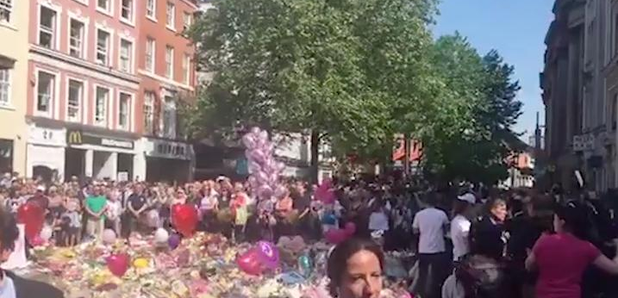 A woman began singing the Oasis anthem after one minute's silence was held for the victims of the Manchester attack.
Footage has emerged of crowds in Manchester singing Oasis anthem Don't Look Back In Anger.
The emotional moment occurred after the those gathered in St Ann's Square joined the nation in observing a one minute silence for the victims of Monday's terror attack, which saw 22 killed at the Manchester Arena.
See our footage here:
Lydia Bernsmeier-Rullow, the woman who began the impromptu singalong, told The Guardian: "Manchester will recover".
Talking about her inspiration for singing the track, she said: "I love Manchester and Oasis is part of my childhood.
"The whole Don't Look Back In Anger, that's what this song is about. We can't be looking backwards to what happened. We have to be looking forward to the future.
"We're all going to join together. We're all going to get on with it because that's what Manchester does."