WATCH: Liam Gallagher Sings Wonderwall With Oasis Fans In Malta
3 May 2016, 10:30 | Updated: 3 May 2016, 17:34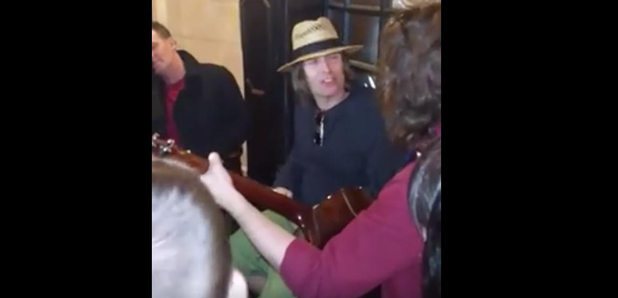 Fans were treated to a singalong of the famous 1995 track while the Oasis man was on holiday.
We've probably ALL been to a house party where someone gets out their guitar and breaks out into an annoying rendition of Wonderwall.
But very few of us can say we've ever had the pleasure of singing the Oasis track with Liam Gallagher himself.
When Tamara Caligari and friends celebrated a mate's birthday at the Valleta pub in Malta, they found themselves in that exact position; singing one of the biggest British singles of all time with Gallagher and original Oasis guitarist, Paul "Bonehead" Arthurs.
Watch the video below:
The music didn't stop there either, with Gallagher wanting the Maltese musician, Peter Borg - who was accompanying on guitar - to sing his own songs.
Watch the clip below, where Bonehead and Gallagher even give him some tips, before saying "sounds like Bob Dylan".
According to the Times Of Malta, Albert Camilleri told Lovin Malta: "We headed there, around 20 of us, got drinks and started speaking to him. We were with Peter Borg, from Red Electrick, so we soon got a guitar and started singing together."
He added: "He even wanted Peter to play some of his own songs, which he really liked. I'm not the biggest fan but my friends were in a dream. Every five seconds they were like: Is this really happening? Am I really singing Wonderwall with Liam Gallagher?"
Picture: Facebook/Tamara Caligari