Details Of The Oasis Be Here Now Deluxe Box Set Have Been Revealed… And It's Awesome
2 September 2016, 14:41 | Updated: 2 September 2016, 14:44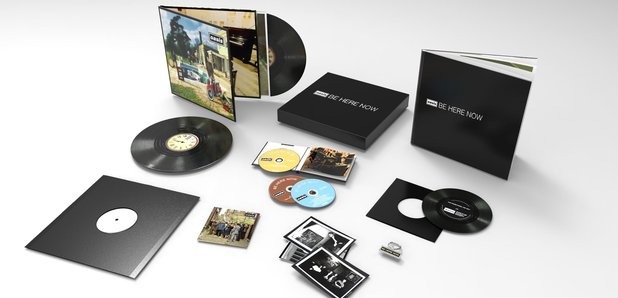 Got a vinyl fetish? Then get ready to salivate as we unveil the deluxe version of the classic 1997 album…
As you already know, next month sees the release of the deluxe "Chasing The Sun" edition of the third Oasis album, Be Here Now.
The LP will join its brothers Definitely Maybe and (What's The Story) Morning Glory? in enjoying some VIP treatment… and this one will be just as special as its predecessors.
The boys and girls at Big Brother Recordings have confirmed what will be in this mouth-watering package. It'll come in a luxury bespoke embossed box and feature the near-mythical "Mustique Demos" – the original Be Here Now recordings laid down in the Caribbean Island in 1996 and never heard outside of the band before.
And that's not all. If you stump up your hard-earned cash, you'll also get:
12"x12" 52 page hardback coffee table photography book with exclusive sleeve notes and rare photos
The Be Here Now deluxe CD featuring 3 CDs: Disc 1 - Remastered album, Disc 2 - B-sides plus rare and unreleased recordings and Disc 3 - Mustique Demos
The Be Here Now LP - pressed on double 180g vinyl in a gatefold sleeve with download code for 2 volumes of bonus content
12" white label sampler of 6 x Mustique Demos
Exclusive 7" including 2 early demos of Stand By Me and Going Nowhere
Promo-only CD copy of D'You Know What I Mean? (NG's 2016 Rethink)
A 12"x12" Art Print
A nice Be Here Now embossed enamel key ring
A pretty postcard set of four photographs
If you don't want to splash out, the Be Here Now reissue will also be available as a standard CD and digital download, Special Edition 3 CD and Deluxe digital download, and a 12" vinyl LP with download code for two volumes of bonus content.
If you pre-order the album now, you can get an instant grat download of D'You Know What I Mean? (NG's 2016 Rethink) and My Big Mouth (Live At Knebworth Park)