WATCH: Noel Gallagher's Son Put Him To Shame On Soccer AM
29 January 2018, 16:37 | Updated: 29 January 2018, 16:47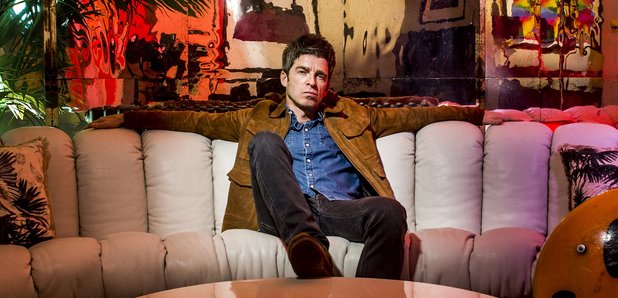 The Holy Mountain singer took on the Volley Challenge with his sons Donovan and Sonny.
Noel Gallagher's sons have clearly taken after their dad when it comes to his love of football.
But when the Holy Mountain singer took them to Soccer AM this weekend, it was his youngest child Sonny who stole the show during the Volley Challenge.
Watch his epic goal here:
VOLLEYS: Noel Gallagher and his family take on the Volley Challenge! His young lad scores the best goal of the lot pic.twitter.com/HdkDHQs7lw

— Soccer AM (@SoccerAM) January 28, 2018
The seven year old was the first to take on the famous challenge, scoring an impressive goal which went right over the goalie's head on his first and only attempt.
Next up was older brother Donavan, who took two brave shots at the goal, followed by his dad Noel, who completely missed on his second attempt.
And it seems like his estranged sibling Liam may have just been watching, as he took to Twitter to hint that someone may have had a cosmetic procedure done.
Speaking to his 2.78 million followers, the Wall Of Glass singer wrote: "I see somebody's had a bit of plastic surgery slippin n a slidin as you were LG x".
I see somebody's had a bit of plastic surgery slippin n a slidin as you were LG x

— Liam Gallagher (@liamgallagher) January 28, 2018
It's not clear who the outspoken rocker is referring to, but there's a good chance it could have something to do with his brother.
Watch Noel Gallagher explain whether he'd accept a knighthood:
Meanwhile, Liam Gallagher is set to play a very special intimate rooftop gig for Radio X.
The Wall Of Glass singer will perform an exclusive acoustic set on the roof of Global in London's Leicester Square on 12 February.
Matt Deverson, managing editor of Radio X, said: "Liam Gallagher is one of the greatest artists of his generation. His UK arena tour and huge summer shows sold out in minutes, so to have him perform an acoustic rooftop gig especially for Radio X is very special.
"Radio X Presents… gives our listeners the chance to see some of the world's biggest artists play in intimate settings and we can't wait for what is sure to be an incredible evening."

The only way to get tickets to Radio X Presents… Liam Gallagher is to win - listen to Radio X NEXT WEEK or the chance to be there.
Watch this baby's amazing reaction to hearing Liam Gallagher, courtesy of BethOddy91: