LISTEN: This Is The Track Sampled On Noel Gallagher's New Song
22 October 2017, 15:58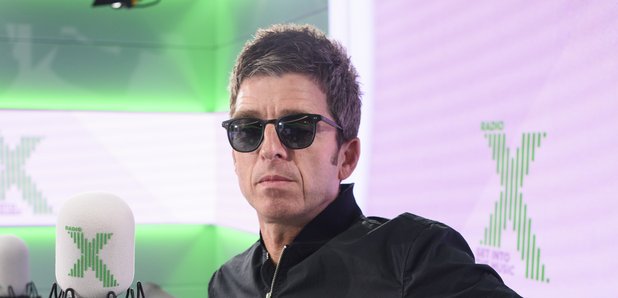 Wondering who plays the whistle in the High Flying Birds? Clue: none of them.
Like us, you're probably LOVING the new track from Noel Gallagher's High Flying Birds. Holy Mountain has already proved itself a genuine banger when Noel played it live in South America last week.
One of the best bits of the song is the maddeningly catchy whistled riff that accompanies the chorus.
But is it performed by one of the High Flying Birds? Nope, it's a sample, courtesy of Noel's producer David Holmes!
Noel recently told Radio X's Chris Moyles: "Holy Mountain was one of the first sessions we did.
"The hook line, the tin whistle thing that is like one of the most catchiest things in the world, is a sample from a track by a brilliantly titled band from the 70s called The Ice Cream, and a track called Chewing Gum Kid."
"So, we listened to that track, and he said, 'D'you like this?' And I was like, 'Wow! Why have I never heard that before?'
"So, we sampled that bit, and the thing, dee, do, do, do... that just went round and round. I worked out the chords, did a bit of jamming on it and we put a drum machine on it…"
He added: "Don't try and Google it, it's beyond obscure, you'll never find it…"
Well, here it is… the track is called Chewing Gum Kid and was released by a band known as The Ice Cream at the end of 1968 on the famous Capitol label.
The song was written and produced by Milan Radenkovich, who was best known to psych rock fans as Milan (The Leather Boy) due to a string of singles in 1967. According to this blog, the band were originally known as The Apple Korps, but their 45 single of Chewing Gum Kid backed with a song called Epitaph For Marie was a flop on its release.
It's since become a "rare groove" slice of "bubblegum pop" that has appealed to crate-digging record collectors like David Holmes… who passed it on to Noel G.
Gallagher says of Holy Mountain: "There's so much joy in that track. My kids love it, and all my mates' kids love it.
"When you hear it, by the second time you hear it, the thing's stuck in your head, and it becomes slightly annoying… but it's brilliant!"