Noel Gallagher: My Sons Are "Grimed Out Of Their Little Ar**holes"
13 February 2018, 10:47 | Updated: 13 February 2018, 17:50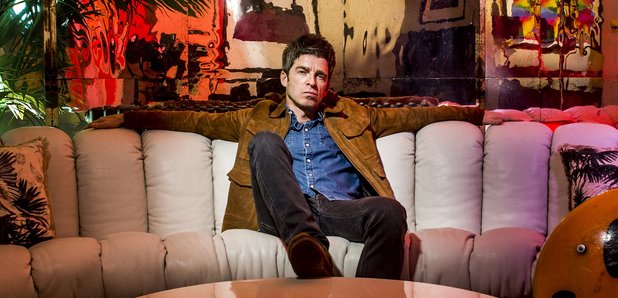 Watch the former Oasis rocker joke about his kids' love of urban music and culture.
Noel Gallagher has described his sons Sonny (seven) and Donovan (10) as "urban as fuck".
As Rolling Stone reports, the Holy Mountain singer revealed his youngest children - who he shares with wife Sara MacDonald - don't follow in his footsteps when it comes to his taste in music.
"My two sons are still urban as fuck," he said. "And grimed out of their little arseholes at the minute. They are. Honestly, they are.
"I called my 10-year-old this evening, and he answered the phone, and this is what he said to me: 'Sup?' He's like a posh, middle-class fucking kid from fucking England. 'Sup?' I'm like... What? Fuck off."
He added: I'll tell you what's up. I'm in New York paying for your fucking school for you – that's what's up."
Watch his interview here:
The Oasis songsmith also praised Bruce Springsteen, calling him a "fucking dude" and revealing a lengthy conversation with the Born In The USA singer.
"We talked for hours – just about music, what it means. It was quite inspiring to hear him talk the way he talks. He's a fucking dude, man."
Despite Gallagher not being impressed by his kids' urban speak, he did take a liking to one of their favourite artist's Big Shaq.
Noel explained to Radio X's Gordon Smart: "I came back from New York the other day and I was in the kitchen with my two lads who, as you know, are ten and seven.
"I told one of them to take his hoodie off while he's having his lunch. He said – and I'd never heard it before - he said, 'Mans not hot'.
"I was like, what? And he went, 'Mans not hot'. And I went, 'Who's not hot?'. And he went 'Man'."
Watch him explain all below:
He added: "He was going on about Big Shaq. I'd never heard of this Big Shaq before, until three days ago. Man it's the funniest thing I've ever seen.
He went on: "I was watching this Big Shaq feller and I was thinking it can't be real. It turns out he's comedian called Michael Dappah. And he's a genius. He's the funniest thing I've ever seen on the internet."
When Gordon asked Gallagher if he'd take Big Shaq on tour, Noel replied: "Oh, I'd love to. If you're listening Michael, get in touch we'll do some gigs, it'll be amazing!"
After hearing his praise, Big Shaq responded and even sang a bit of Wonderwall: