Noel Gallagher Wants To Write For Morrissey
9 March 2018, 11:45 | Updated: 27 March 2018, 18:20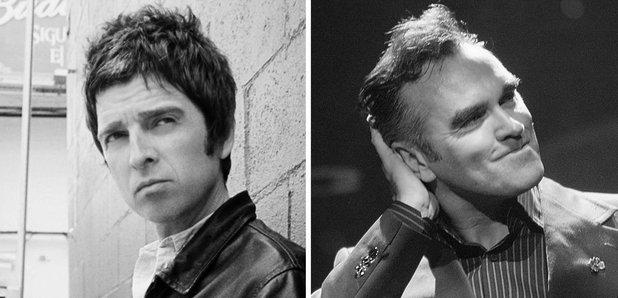 The Oasis songsmith has revealed he'd like to work with his fellow Manchester musicians such as Morrissey and Shaun Ryder.
Noel Gallagher wants to write a song for Morrissey.
The Oasis legend has decided he wants share his songwriting talents around and has made a wish list of artists he wants to work with.
Speaking to the Daily Star, the Don't Look Back In Anger star said: "If I could write a song for Morrissey that would be great because he was a big part of my teenage years.
"I'd like to write a song with Shaun Ryder as well, that would be great fun. I would work with anyone and everyone."
Watch Noel Gallagher talk about his Who Built The Moon? album:
Gallagher decided to experiment on his last solo LP, Who Built The Moon?, after being encouraged to write in the studio for the first time by producer David Holmes.
And it seems he's continuing his experimental phase by switching instruments for his songwriting sessions at home, ditching the guitar for the bass.
He spilled: "I've been writing songs on the bass recently. I've got to say it's f***ing unbelievable. No wonder Sting is so f***ing rich!
"Everything I'm writing at the minute sounds like The Police or The Cure."
If Noel fulfils his wish to work with Morrissey, 58, and Shaun, 55, it won't be the first time he's collaborated with fellow rock legends.
The guitarist has previously recorded with The Stone Roses singer Ian Brown, Damon Albarn's animated group Gorillaz and his close friend Paul Weller.
Noel has also indulged his dance music tendencies with The Chemical Brothers - who has worked with on three occasions - and drum and bass producer Goldie.
Meanwhile, Morrissey is set to round off his UK dates tonight with a gig at London's Alexandra Palace.
Watch him perform How Soon Is Now at the city's Royal Albert Hall:
Lead photo credit: Morrissey: Getty Images Entertainment, Noel Gallagher: Press