Noel Gallagher: "I've Got Too Much F**king Money"
27 December 2017, 10:10 | Updated: 27 December 2017, 15:03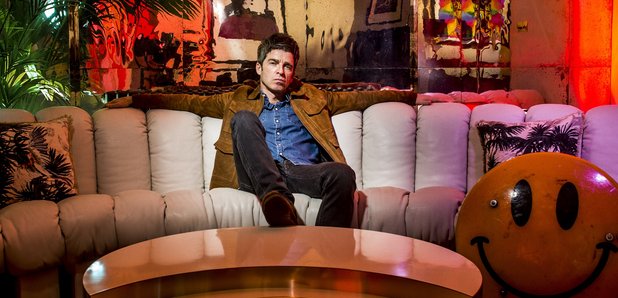 The Holy Mountain rocker has explained why he thinks being a "stadium rocker" at 50 is "undignified".
Noel Gallagher has said doesn't need to be a "stadium rocker" at his age because he's got more money and glory than he'd ever need.
The 50-year-old musician believes he has "conquered the world enough" and has proved his ability on stage over the years.
Speaking to Music Feeds in a recent interview, he said: "I don't need to be a stadium rocker anymore – I did it when I was in my twenties and thirties and forties, and I was good at it. I don't particularly want to be a stadium rocker when I'm 50. I think it's undignified.
"I've conquered the world enough, I've got enough money. In fact, I've got too much f**king money. Do you want some? I'll send you some. How much do you want? I don't need any more glory."
Though he won't be doing his own solo stadium shows, Noel accompanied U2 on their huge Joshua Tree 20th Anniversary dates.
Watch them pay tribute to the Manchester terror attack victims by singing Don't Look Back In Anger:
Speaking about the possibility of reuniting with Oasis, he said: "I know that people will not let it go, alright?. I'm not saying you, I just mean people in general.
"It doesn't enter my thoughts at all."
He added: "I mean, it's quite flattering in a way because it means that you did something of real worth. But you know, I did it. I'm done with it."
Meanwhile, Noel recently revealed that he thinks "Christmas is shit" and he only started liking it when Half The World Away became a John Lewis advert.
The rocker told Fact Mag: "The entire f***ing period is a stain on society. I f***ing hate it with a passion; the jingles.
"Although when John Lewis put my song in an ad at Christmas, I loved that. At that particular point I thought, 'You know what, Christmas is alright, I'm going to give Christmas a second chance here.' I gave it a second chance, it was fucking shit.
"Too much food, too much we are the world, the jumpers, the TV presenters, the shit adverts, the fucking weather, the disappointed children's faces in my house.
Watch Noel reveal why he's given up defending U2: