WATCH: Noel Gallagher And Damon Albarn Sing The Clash And Gorillaz Onstage
14 December 2015, 10:40 | Updated: 11 May 2017, 17:03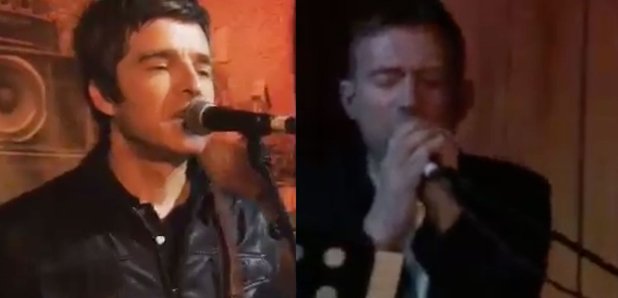 The former Britpop rivals joined forces to celebrate The Clash bassist Paul Simonon's 60th birthday.
Noel Gallagher and Damon Albarn performed on stage together last night (Sunday 13 December) for Paul Simonon's 60th birthday bash.
They may have been famous rivals 20 years ago, but the pair joined forces for a performance with The Pretenders' Chrissy Hynde and The Clash bassist, who turns 60 on Tuesday 15 December.
Guests were treated to covers of The Clash's I Fought The Law, Janie Jones, Guns Of Brixton and Brand New Cadillac.
The one-off supergroup also performed a rendition of Gorillaz tracks Dare and Clint Eastwood.
With Gallagher and Damon both working on new material and inviting old friends on-stage, perhaps we'll see them making sweet music together soon?
See their star-studded set list below:
Gallagher and Albarn have more than sharing the same stage in common at the moment, both hitting the headlines for their apparent words on Adele. After The Sun reported that Albarn called Adele "insecure," the Britpop star suggested the feud was "not even true" and his words were misrepresented.
There's no mistaking Noel's honest words about the singer though, whose sound he called "music for fuckin grannies".