Noel Gallagher: My Cat's Still More Rock 'N' Roll Than Radiohead
20 November 2017, 18:02 | Updated: 21 November 2017, 10:27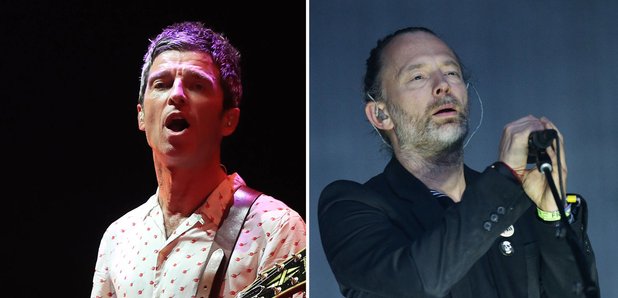 The It's A Beautiful World singer has explained why he's never in the mood to hear Thom Yorke and co.
Noel Gallagher still thinks his cat Boots is more rock 'n' roll than Radiohead.
The former Oasis guitarist previously mocked his Britpop rivals' credentials as a rock band, and though he says the Creep rockers have done some "great" songs since, he still doesn't think they live up to his "demon" pet.
Asked by The Irish Independent if he ever said the insult, he said: "Absolutely. Boots is a f***king demon."
He added: "Listen, they have done some great stuff."
The Fort Knox singer - who releases his third solo record Who Built The Moon? on Friday (24 November) - says he and his wife Sara MacDonald will "never be in the mood" for Radiohead, especially when frontman Thom Yorke sings.
Watch Noel Gallagher reveal why his Who Built The Moon? album might be his most favourite so far:
When asked if they are a "party band", Noel told the newspaper: "No. This is the one thing that I am always going to hold against them.
"My wife has a physical reaction to them, when she hears them. It's like: 'No – can't do it. Once he [Thom Yorke] starts singing. Can't do it.'
"No, they're not a party band. But I've got some of their tunes on my phone.
"But I'm never in the Radiohead moment where I'm thinking, 'Oh, a bit of modern angst will do here!.'"
In a previous interview in 2015, Noel said Radiohead – also comprised of Philip Selway, Ed O'Brien and Jonny and Colin Greenwood – would probably still get top reviews if Yorke "f**king sh*t into a light bulb".
He said at the time: "I'm aware that Radiohead have never had a fucking bad review. I reckon if Thom Yorke f**king shit into a light bulb and started blowing it like an empty beer bottle it'd probably get 9 out of 10 in fucking Mojo. I'm aware of that."
And on trying to give them "one last chance" when he and Sara went to Coachella festival in California in 2012, he added: "Me and my missus, we were at the Coachella festival a couple of years ago [2012] and Radiohead were headlining.
"We were like, 'Right, let's give them one more chance. Let's go and see them.' Beautiful, sunny night.
"We walked out through the crowd as they came on, and they were playing this post-techno: 'de-de de de'. We were a bit p***ed. F**king great. And then he started singing. No. Not for us. We're party people."
Noel Gallagher may not have much time for Radiohead, but he stands by the genius of U2, who he supported on tour throughout this year.
Find out why he's done defending the band here:
Radio X is set to host a special Noel Gallagher night on Thursday 23 November.
Tune in to hear Noel talk to Gordon Smart from 8pm, then listen to his brand new album for the first time ever in a special track-by-track with John Kennedy from 10pm.
Photo credit: Noel Gallagher: Peter Byrne/PA Wire/PA Images
Thom Yorke: Yui Mok/PA Wire/PA Images