"He's a loser:" Watch Russell Brand And Noel Gallagher Mock Each Other In Video
4 April 2016, 11:30 | Updated: 29 March 2017, 12:02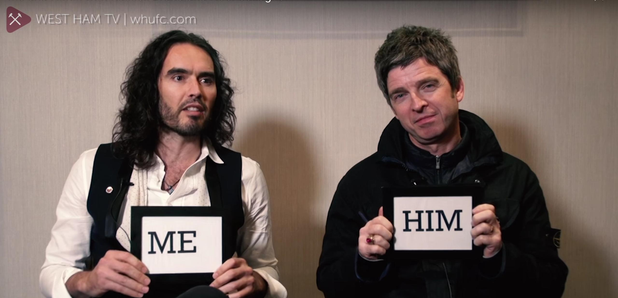 The good friends and fellow football lovers rip each other to shreds in West Ham TV's Me and Him video.
Russell Brand and Noel Gallagher have taken part in West Ham TV's "Me and Him" feature - and it's safe to say they don't hold back.
The comedian and Oasis legend might be firm friends, but they haven't let that get in the way of their honesty when answering who's the funniest or most clever of the two.
Watch the pair answer the big questions below:
Insults include Noel telling us that his mate's "good at long words, but a loser in the game of life," while Russell jokes that Noel's material was "quite well preserved from when it was written by John Lennon."
Top banter.
It's not the first time these two have come together in the name of football, watching Brand's beloved West Ham and Gallagher's Man City play each other at Upton Park.
VIDEO: This tremendous Joe Hart save broke Russell Brand's heart https://t.co/8vln44V1bK pic.twitter.com/bXTDb1sxRL

— Deadspin (@Deadspin) January 23, 2016
Mr LG took the opportunity to tweet about their day out in his typical style, writing: "I see rkids at the game again with his lover Caitlyn brand".
I see rkids at the game again with his lover Caitlyn brand MCFC LG X

— Liam Gallagher (@liamgallagher) January 23, 2016
We wonder what former Oasis bandmate will have to say about this latest display of bromance?