WATCH: Skateboarders Ambush Noel Gallagher After He Calls Them "F**king Little Idiots"
29 April 2016, 11:22 | Updated: 29 April 2016, 11:26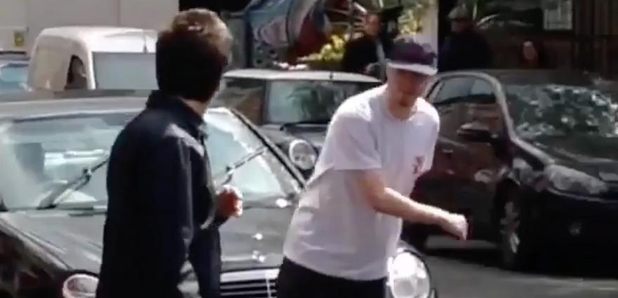 Skateboard store, Note, decided to get their own back at the Oasis man while he was shopping in Manchester.
Noel Gallagher waged war on skateboarders earlier this month, calling them "fucking little idiots" during an interview.
Speaking to sport channel Fuel TV, he said: "Skateboarding's for fucking little idiots. Skateboarders can, quite frankly, go fuck themselves. I've never seen a skateboarder ever, in the streets, in the entire world try and do something and not fall off. What the fuck is that all about?"
So when the Oasis man went out for a spot of shopping in Manchester's Northern Quarter, skateboard shop NOTE decided to have their own back by getting someone to skate around the star without making one mistake.
Watch it below:
Epic.
Just in case you didn't catch Gallagher's original interview, watch the moment he laid into the sport, below:
After his harsh words, its fair to say the skating community wasn't happy. However, Noel decided to make light of the situation dedicating a WHOLE afternoon to posting skating-related images.
No wonder they wanted to get their own back!
According to the Manchester Evening News, Gallagher was a good sport and even gave the pranksters a round of applause.
NOTE manager Paul Rogers said: He'd been slagging skaters off saying we never land any tricks and there was a bit of a furore over it.
"We saw him shopping and one of the lads in the shop decided to do a trick so he couldn't say he'd never seen anything."
Picture: Instagram/NOTE