Russell Brand: Noel Gallagher's Kids Destroyed An Effigy Of Me
19 March 2013, 13:00 | Updated: 3 February 2014, 12:50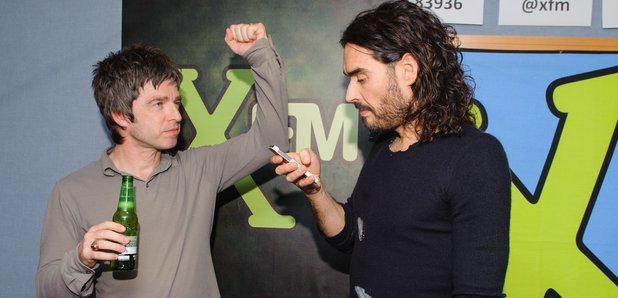 Russell Brand returned to radio last night (March 18) with a special show on Radio X that featured Noel Gallagher, Matt Morgan and the team for raising money for Teenage Cancer Trust.
Just like in the old days, Russell and Noel immediately engaged in some typically barbed banter - with the comedian revealing how the former Oasis man's young sons attacked a mask of his face in a "pagan" style scenario.
Russell told how he arrived at Noel's house on Valentine's Day - with a bunch of flowers for the singer's wife, incidentally - to be confronted by a bizarre scene.
"It was lovely to visit you at your house and meet your two delightful sons," Brand said. "There was a moment where your lad Donovan savaged a mask of me.
"The kids were there playing with one of those masks available from a souvenir tourist boutique. It was a sort of mask of my face. Another one of the children, Sonny, he had a mask on of Noel's face. Noel had been out and purchased them. It seemed very ritualistic, pagan behaviour… very peculiar, very unsettling Wicker Man antics in the Gallagher household."
"We used your mask to potty train Donovan," explained Gallagher. "They laid into it, the mask. They were chanting: I hate Russell Brand, I hate Russell Brand - they'd rehearsed it all day. I can't tell you, the rush of pride I had."
Meanwhile, Russell retaliated with a dig about Noel's brother Liam when the singer accused him of not coming up with any new ideas.
"Some of us like to retread the early years of our career incessantly," said Brand, "knowing that we've not come up with anything decent pretty much since the good looking frontman cleared off!"