Noel Gallagher Ready To Work With Damon Albarn On Gorillaz Album
28 April 2016, 09:30 | Updated: 11 May 2017, 17:02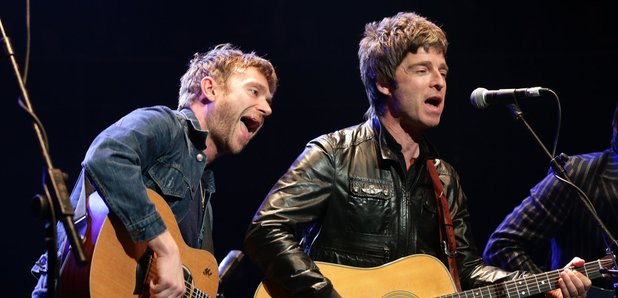 The Oasis man says Damon Albarn has "only got to ask".
Noel Gallagher has offered himself up to work on the new Gorillaz album.
The Oasis and Blur men may have been Brit Pop rivals back in the 90s, but it's no secret that they've built up a firm friendship over recent years.
When asked if he'd be up for working with Albarn, the Stop The Clocks singer told the Daily Star: "Yeah. Well he's making a new Gorillaz album and he's got my number, so he only has to ask."
He teased: "There is talk of doing something, but I'm not sure what it is."
Gallagher and Albarn recently performed the Gorillaz track, Dare, together for The Clash man, Paul Simonon's, 60th birthday.
See them in action below:
They may be pals now, but Noel's Oasis bandmate and brother Liam isn't keen to let him forget what he used to think (and say) about the animated project.
The Some Might Say singer posted an incriminating video on his Twitter page, which showed his brother dismissing the Gorillaz as "music for 12-year-olds".
Watch it below:
What's that, Noel? - YouTube https://t.co/6pfzAr0Aj7

— Liam Gallagher (@liamgallagher) March 18, 2016
Brothers eh?