Ellie Goulding: Noel Gallagher Said He F**king Loves My Music, But Told Me Not To Tell
1 April 2016, 13:39 | Updated: 1 April 2016, 13:58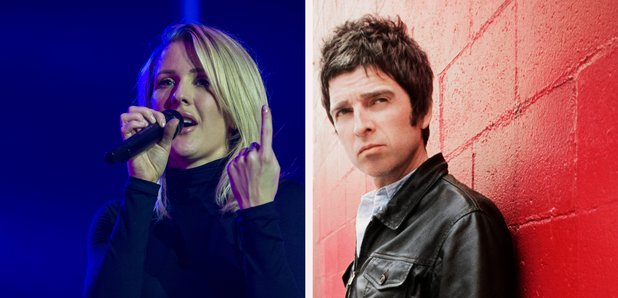 The Army singer claims Gallagher told her he liked her music "a couple of years ago" at the BRIT Awards.
Noel Gallagher's known for being outspoken when it comes other stars, and his approach to Ellie Goulding has been no different.
In an interview with Esquire, the former Oasis man said nobody "gives a shit what Ellie Goulding is up to", but the Army singer claims that Gallagher not only "loves" her music, but told her to keep it a secret too.
In an interview with the Guardian, the 29-year-old revealed: "Noel Gallagher said to me at the Brits a couple of years ago: 'I really fuckin' love your music, but don't fuckin' tell anyone.'
"So he's lying. He does like my music. He told me himself."
Continuing to defend herself, she added: "I might seem boring to some people, but first of all I can fight really well – I mean, I could probably take you right now – and if the epitome of supposed rock'n'roll is playing guitar, then I do play guitar.
"And I play guitar very fucking well. So there."
In his full rant on Esquire, Ellie Goulding wasn't the only star Gallagher took aim at, with Adele and One Direction all being given the same treatment.
The Ballad Of The Mighty I singer said: "Does anybody give a fuck about what any of these current pop stars are up to? It blows my fucking mind. Nobody cares! Fame's wasted on them, with their fucking in-ear monitors and their electronic cigarettes. And their fragrances that they're bringing out for Christmas."