Have The Cribs Thrown A Dig At Noel Gallagher For Hull Jibes?
13 March 2018, 11:00 | Updated: 13 March 2018, 11:20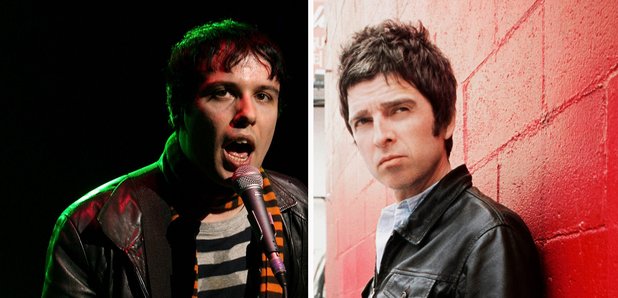 The Men's Needs band have showed their love for the Yorkshire city in an Instagram post.
The Cribs have seemed to leap out in defence of Hull in an Instagram post, after Noel Gallagher was seen ribbing the city at a recent U.S gig.
The Wakefield outfit have shown their love for their fellow Yorkshiremen in an Instagram post which sees one of them standing under a "CRIBS Accommodation" sign.
See the image below, which was captioned: "We were in Hull recently. We [love] Hull. Always have."
While the post doesn't openly reference Noel Gallagher, it comes soon after the Oasis songsmith was captured calling Hull a "shithole" at his Austin City Limits Live gig in Texas last Monday (5 March).
See a clip of his banter here:
Noel Gallagher talking to members of the crowd from Hull at the Austin City Limits Live At The Moody Theater in Austin yesterday. #NoelGallagher

nicelemon2 pic.twitter.com/3skULsnyzQ

— Latest Oasis News (@scyhodotcom) March 6, 2018
The Holy Mountain singer can be heard asking a group of chanting fans where their from, before saying: "Hull?
"From Hull? How the fuck can you afford to be in America from Hull? Did you fucking rob your gran's house or something?
"Don't want to be miserable right, it's a fucking shithole."
The It's A Beautiful World singer added: "The best thing about it is a bridge. That's all they have got is a fucking bridge. It's shit. No offence."
Speaking to the Hull Daily Mail, Ben - one of the Hull revellers in the crowd - said it was all in good fun.
"There's been 22 of us over here, majority are old school friends from Hull and we booked the stag do just hearing of how good Austin was a place," he said.
"Then coincidently NGHFB announced a gig which coincided with our last night."
He added: "We just wanted to try and get a bit of banter or something for (the stag) Matthew to remember so when it went quiet, we started a chant famous to football fans knowing Noel Gallagher is a big Man City fan and he stopped and asked if we were English and tried to guess where we were from.
"Once he heard us chanting Hull was when he had a bit of a dig but nothing we haven't heard over the years anyway. "
Watch Noel Gallagher perform Holy Mountain on Jimmy Kimmel Live:
Lead photo credit: The Cribs Ryan Jarman:Jo Hale/Getty Images, Noel Gallagher: Press