Anaïs Gallagher: I Know Modelling Start Is Down To Dad Noel
12 October 2017, 11:51 | Updated: 12 October 2017, 17:53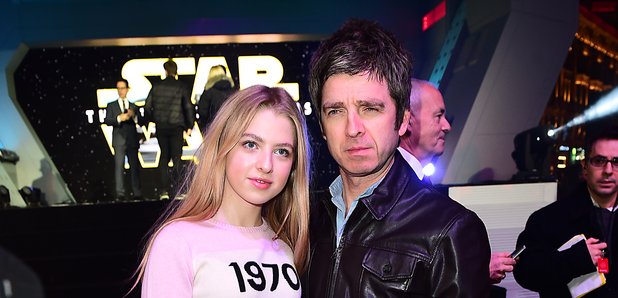 The 17-year-old admits her first opportunities were "100 per cent" down to her Oasis star father, but insists she's maintained her career with hard work.
Anaïs Gallagher has talked about her burgeoning catwalk career, and admitted she's not here by her "own right".
As reported by the Evening Standard, in an interview with Rollacoaster magazine which comes out this Friday, the 17-year-old - who is the daughter of Noel Gallagher and Meg Matthews - discussed being signed to a modelling agency from 11 years old.
"I think it's tough for me, because in no way am I here by my own by own right," she told the outlet. "I'm here with this platform because of my parents."
"People say, 'You only did that because of your dad'. That's 100 per cent true, but I've only sustained where I am because I'm me. I'm a hard worker and I have my own mind."
One such critic is her own cousin Gene. The teen, who is the son of Liam Gallagher and Nicole Appleton, took to Twitter to slam her in a now deleted tweet, which read:"Firstly, u look like ur dad w a blonde wig on...
"Secondly, u model coz u look like ur dad not coz of who u are nobody care who u are lmao".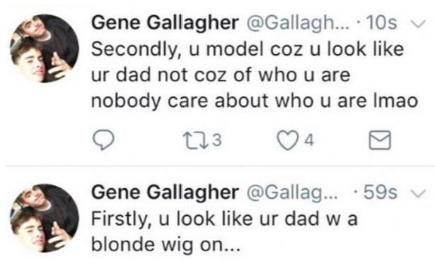 However, Anaïs - who has secured campaigns for the likes of Accessorize, Reebok, Tommy Hilfiger Dolce & Gabbana - stresses she was only able to make the most of her luck and her name because she's a "hard worker" and has her "own mind".
"Like when I wrote about not being able to vote in the general election for Teen Vogue," she explained.
"A lot of teachers said I had a pretty face and a lucky last name and that I wasn't intelligent enough to write, or couldn't because I'm dyslexic. But that was nothing to do with my name. I wrote it myself and it was published. I was immensely proud of myself."
Meanwhile her rocker dad is preparing to release his third studio album, Who Built The Moon? and has given its first single its live debut.
Watch him perform Holy Mountain for the first time while supporting U2 in Argentina:
Find out why Noel Gallagher is tired of defending Bono and co.