The Most-Played Nirvana Song Is Obvious - What's The 2nd?
20 February 2017, 06:00 | Updated: 23 February 2017, 18:53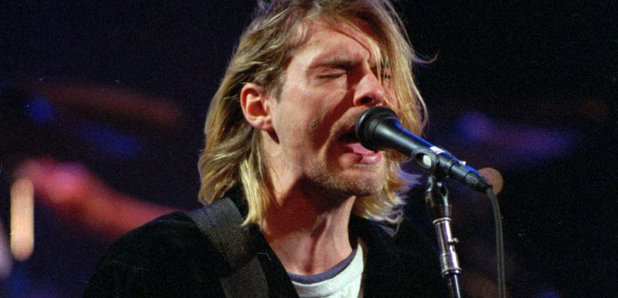 The Top 20 most-played songs by the grunge legends have been revealed… and it's obvious what's at the top. But you'll be surprised by the runner-up.
20 February 2017 marks what would have been Kurt Cobain's 50th birthday and to mark the occasion, music licensing organisation PPL has revealed a Top 20 chart of the most-played Nirvana tracks on UK radio and TV in the 21st century.
Of course, Smells Like Teen Spirit is in the Number 1 spot… but lagging not far behind is the follow-up single, Come As You Are.
Incredibly, the hugely-popular David Bowie cover, The Man Who Sold The World has only made it to Number 6, and surprisingly the B-side Aneurysm makes Number 9 while, the manic and graphic Nevermind album track Territorial Pissings brings up the rear at Number 20.

The chart also includes the Seattle band's cover versions of Love Buzz originally by Dutch group Shocking Blue (Number 14, and Nirvana's debut single) and The Vaselines' Molly's Lips (Number 18).

In Bloom, a single released in the UK but not the US also makes an appearance at Number 5 in the chart.

Although their Nevermind album was critically acclaimed upon release, it was not recognised with any major award wins while the band were still together. The LP has gone on to sell over 30 million copies, including 1.8 million in the UK alone.
The 20 most-played Nirvana songs on UK radio & TV:
1. Smells Like Teen Spirit
2. Come As You Are
3. Lithium
4. Heart-Shaped Box (1993)
5. In Bloom (1991)
6. The Man Who Sold The World (1993)
7. All Apologies (1993)
8. About a Girl (1989)
9. Aneurysm (1991)
10. On A Plain (1991)
11. Drain You (1991)
12. Stay Away (1991)
13. Breed (1991)
14. Love Buzz (1989)
15. Serve The Servants (1993)
16. Lounge Act (1991)
17. Something In The Way (1991)
18. Molly's Lips (1990)
19. Dumb (1993)
20. Territorial Pissings (1991)