Macca Reveals More about the Nirvana "Reunion"
12 December 2012, 13:34 | Updated: 5 August 2013, 14:23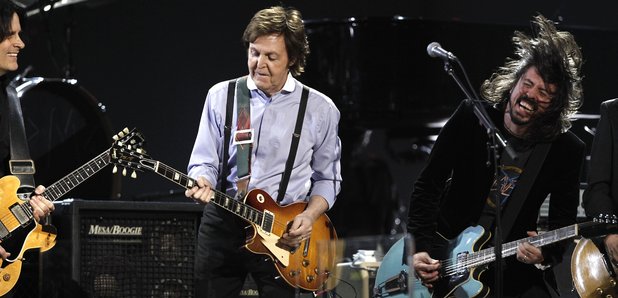 Sir Paul McCartney's going to play a charity gig in New York where it's though he'll perform with the surviving founder members of Nirvana - filling the place of the late Kurt Cobain - after taking part in the first reunion of the band in two decades.
The 12. 12. 12. Hurricane Sandy benefit gig to aid victims of the storm takes place tonight.
Speaking to Radio X's Gordon Smart, Sir Paul explained that he accidently ended up being part of the Nirvana reunion while taking in part in Dave Grohl's film about Sound City Studios in LA.
As part of the film the Foo Fighter's frontman and former Nirvana drummer asked friends (and musical legends) to jam with him using an old Sound City desk.
"[Dave] said 'I've got a couple of mates who are coming- Krist and Pat'," Macca explains. "I didn't really know who they were because I'm not big on musical history.
"They were sitting around and were starting to talk saying, 'oh man it feels so good - we haven't played together for 20 years!' and then someone says to me ' that's Nirvana - Krist Novoselic is the bass player, Pat's the guitar player, Dave's the drummer you're Kurt!' and I said 'What?!'.
"So there's the five of us... I'm sitting in on a Nirvana reunion! We just had a laugh."
He told Gordon that when he decided to get involved with the Hurricane Sandy fundraiser he straight away turned to Dave Grohl to join him on the line up - suggesting that the Nirvana reunion with him in Kurt Cobain's place could happen live for the show.
Sir Paul McCartney, Dave Grohl, Bon Jovi, Eric Clapton, Chris Martin, Bruce Springsteen & The E Street Band, Eddie Vedder, Roger Waters and The Who are all are on the line-up for the massive show to raise money to help the victims of Hurricane Sandy.
Sir Paul has a home in the Hamptons - a posh area in New York state - and his wife Nancy works in the city.
He told Gordon that he just escaped getting caught up in the hurricane - twice.
"I'd taken my little one on holiday in her school break and we'd gone out to the bahamas and the last day I was supposed to be leaving they said 'there's a storm blowing in' so I just got out and then that evening Sandy hit the Bahamas and there were people killed you know!
"Then I went out to New York for a few days to see Nancy then the talk was it's coming up - so I got out in the morning. When I got to Heathrow they said 'you're lucky, they've cancelled all the flights.' So I scraped out of the two situations."
He went on, "there was a lot of devastation - not areas where I was affected - but when you saw it on the news and when you heard people's stories.... in a recession it's added to all people's woes so I was looking for something to be able to do about it."
The 12. 12. 12. gig is being broadcast around the world from 7.30pm New York time. In the UK it will be broadcast from half past midnight on Sky Arts.