This Footage Of Kurt Cobain Meeting A Young Fan In 1992 Is Absolutely Classic
30 September 2016, 17:35 | Updated: 30 September 2016, 17:38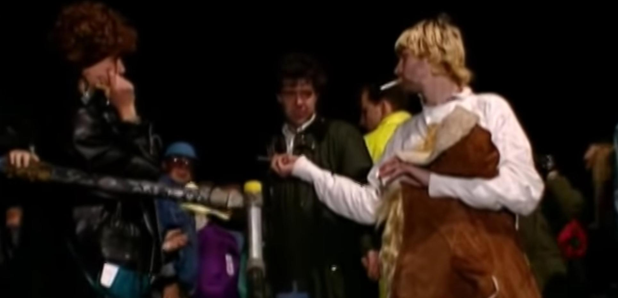 The video is believed to have been taken after Nirvana's 1992 Reading Festival slot.
Footage has re-surfaced of Kurt Cobain meeting young British fan, and it's 1:27 minutes of pure banter.
After what is believed to be their set at Reading Festival 1992, a man approaches the Nirvana frontman for signature for his sick son.
Watch what happened next below:
Before long little Craig rocks up to Cobain, who tells him "don't smoke" while a cigarette dangles out of his mouth.
So it's more a case of do as I say, not as I do.
Beaming from ear to ear the young man then tells the rocker how much he likes his wife Courtney Love, only for the Smells Like Teen Spirit singer to respond: "Not very many people do."
Classic.
Also - how much of a wheeler dealer is Craig's dad? Even if he seems to think Kurt Cobain is the whole Nirvana....