Justin Bieber Wears Nirvana T-Shirt, Rock Fans Aren't Happy About It
23 November 2015, 11:32 | Updated: 23 November 2015, 12:39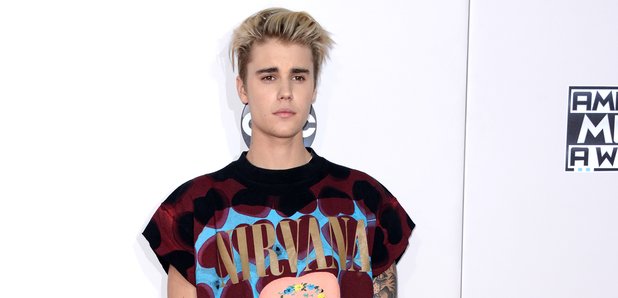 The pop star wore the t-shirt at the American Music Awards.
Justin Bieber has caused stir after wearing a Nirvana band t-shirt on the red carpet. The Canadian singer attended the American Music Awards on Sunday (22 November 2015) wearing the grunge band's shirt on the red carpet.
Naturally, it ruffled a few feathers, and music fans weren't having any of it. This guy suggested Nirvana frontman Kurt was rolling in his grave.
Kurt Cobain rolled over in his grave when Justin Bieber showed up wearing a Nirvana shirt

— Ya boy Westin (@awestbarn) November 23, 2015
One fan accused him of not knowing enough about band's music.
interviewer: what's your fav nirvana song? justin: I'd have to say smells like teen spirit pic.twitter.com/5bcy6sz792

— kaycie (@fondadidas) November 23, 2015
While suggested he was just copying Kanye.
Justin Bieber is literally Kanye West's annoying friend that copies his fit 2 days after he did it first. Nice Nirvana shirt lmao

— kevin witkowski (@k3v1nnn) November 23, 2015
However, Kurt Cobain's widow, Courtney Love, has come to the singer's defence, tweeting that he was "cool" in her book.
You're cool in my book @justinbieber xc

— Courtney Love Cobain (@Courtney) November 23, 2015
It's not the first time Bieber's caused sartorial offence, wearing a Metallica T-shirt earlier this month on the Ellen De Generes show.
#JustinBieber #WhatDoYouMean #Metallica #SamSmith pic.twitter.com/XWglr1V4X5

— Guillermo Balderas (@memodioso) November 11, 2015
Metal fans weren't amused about it.
If Justin Bieber can stop wearing Metallica shirts that'd be great... Sincerely, those of us who listen to real music

— Lucas (@_lucasanchez_) November 10, 2015
This fan didn't seem to mind though.
Sometimes I like Metallica, sometimes I like Justin Bieber, sometimes I like Twista, and sometimes I like TLC.

— Tired (@BrendanReth) November 21, 2015
JB's not the only celebrity that's come a cropper for his choice of tee. Kim Kardashian and Kanye have both rocked Ramones T-shirts this year.
#KanyeWest spotted wearing Ramones t-shirt #KimKardashian wore first #rapper #NewYork http://t.co/UOo7wWQnBP pic.twitter.com/Mbrz7IMTJQ

— Kardashian Trends (@Kardasholizer) October 9, 2015
Nothing wrong with Smells Like Teen Spirit...