Dave Grohl Reunites With Girl From Nirvana's Heart-Shaped Box Video
15 February 2016, 11:13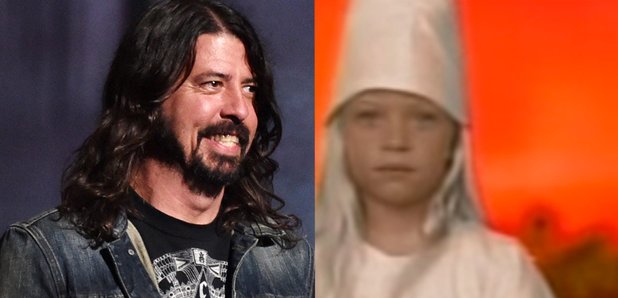 The Foo Fighters frontman called the reunion a "historic moment".
Dave Grohl has reunited with the girl from Nirvana's Heart-Shaped Box video.
Kelsey Rohr appeared as the hooded girl in the controversial promo as a six year old, and now she's finally had the chance to revisit her memories.
Rohr posted a picture on Instagram with the caption: "Today Dave Grohl and I picked up right where we left off 23 years ago on set of Nirvana's last music video "Heart-Shaped Box".
"Today reminded me that I peaked at 6 years old BUT I was the most badass kid on the playground. Today was the absolute coolest. Or in Dave's words seeing each other today was a "historic moment"! What a legend!! #davegrohl #nirvana #heartshapedbox"
See their snap below:
And watch six-year-old Kelsey in action:
Meanwhile, the surviving members of Nirvana joined forces with Beck to pay tribute to David Bowie at the Pre GRAMMYs Gala.
1st #PreGRAMMYGala performance is a tribute to David Bowie: @Beck and the living members of Nirvana (@DaveGrohl!) pic.twitter.com/g0SgrRtug5

— Brian A. Hernandez (@BAHjournalist) February 15, 2016
The artists performed Man Who Sold The World - a track which helped catapult Nirvana to superstardom, following Kurt Cobain's suicide and their MTV Unplugged release.
Lady Gaga has also revealed her tattooed tribute to Bowie, ahead of her upcoming tribute at GRAMMY Awards tonight (Monday 15 February).
Lady Gaga getting a David Bowie tattoo last night. #2 pic.twitter.com/pbSSYgkUHy

— Lady Gaga News (@TomyKMonster) February 14, 2016
According to reports, the pop star will be joined on stage by Bowie's friend and collaborator Nile Rodgers.