So Ivanka Trump Had A "Punk Phase" & Cried When Kurt Cobain Died...
18 October 2017, 12:20 | Updated: 18 October 2017, 17:58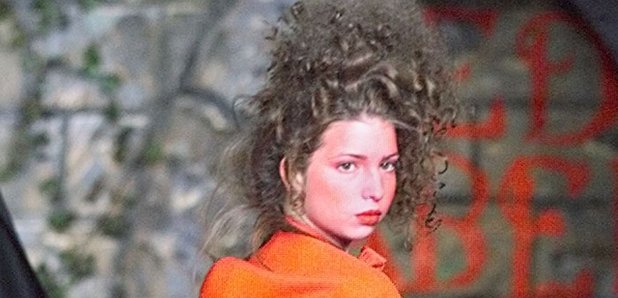 The daughter of the U.S. President has revealed her punk credentials, but Twitter isn't buying it.
Ivanka Trump has claimed to have been a fan of Nirvana.
Despite the Seattle band being icons of the grunge-era, the businesswoman and daughter of Donald Trump has talked about her "punk phase," which involved wearing "flannel shirts" and dyeing her hair blue before her mum forced her to change it back the very same day.
In her mother Ivana's new memoir, Raising Trump, she writes: "During my punk phase in the nineties, I was really into Nirvana. My wardrobe consisted of ripped corduroy jeans and flannel shirts."
"One day after school, I dyed my hair blue," she adds, saying: "Mom wasn't a fan of this decision. She took one look at me and immediately went out to the nearest drugstore to buy a $10 box of Nice'n Easy. That night, she forced me to dye my hair back to blond. The color she picked out was actually three shades lighter than my natural color… and I have never looked back!"
Naturally, Twitter has read the news of Ivanka's account, and reacted accordingly.
I CAN'T WAIT for the Ivanka Trump punk memes to begin! pic.twitter.com/ceL34Uum5D

— Christian Nightmares (@ChristnNitemare) October 17, 2017
Ivanka Trump said she had a "punk phase" so here's proof pic.twitter.com/edkDhgtKbn

— Alexis Benveniste (@apbenven) October 17, 2017
Ivanka Trump's alleged punk phase consisted of listening to Sk8er Boi and relating to the girl who said see you later boy

— Orli Matlow (@HireMeImFunny) October 17, 2017
Ivanka Trump: I had a "punk phase", dyed my hair blue and listened to Nirvana

1. You were never punk rock
2. Your husband is going to jail
3. Your dad is a dark stain on humanity

P.S. Stop disturbing Kurt Cobain's slumber

— PROUD RESISTER (@ProudResister) October 18, 2017
Ivanka Trump, punk as fuck in Aspen in 1998 pic.twitter.com/dWFg5zLOXD

— Christian Nightmares (@ChristnNitemare) October 17, 2017
Find out what Muse think Donald Trump here: