There's A Campaign For A Nirvana Reunion With Chad Kroeger
27 July 2018, 11:20 | Updated: 27 July 2018, 11:27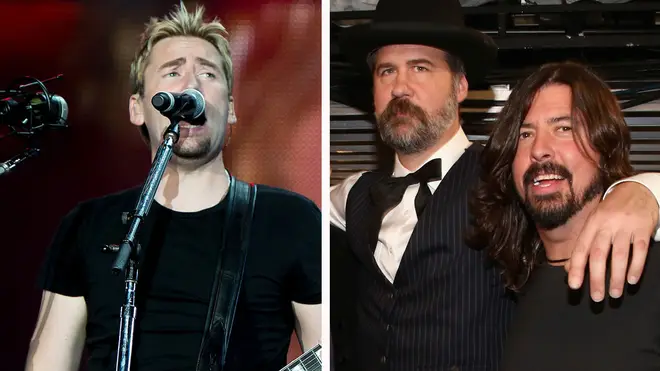 A Facebook campaign has been launched to link the Nickelback rocker to the surviving members of the grunge band.
A new campaign has been launched in the hopes of getting Nirvana to get back together.
But strangely enough, the Facebook event page wants the surviving members of the grunge band and Pat Smear to enlist Chad Kroeger from Nickelback on vocals.
Clearly not taking itself too seriously, the campaign misspells the How You Remind Me rocker's name and suggests the proposed venue would be at The Nirvana Hair and Beauty Bar in Manchester.
At the time of writing, 794 people are going and 2.3K people are interested, but the propose date for the event is Tuesday 1 January 2019, and we hardly think that's realistic.
Back on planet earth, Kurt Cobain's mum recently recalled the first time she heard Nirvana's Smells Like Teen Spirit.
Wendy O'Connell attended the Growing Up Kurt exhibition at the Style Icons museum in Ireland last week, and revealed what happened the time the late frontman first played her the recording of their hit song.
"I was in the bathroom finishing my make-up and all of a sudden Teen Spirit came on and I just went flying outta there," she recalled.
"He was sitting in his whitey tighties in the front room, near the sofa. I sat on the edge of it, and… I could remember that like it happened a few minutes ago. The hair on my arms stood up and I got this heaviness in my chest.
"I said: 'Oh my god Kurt. You're gonna to be famous.'"
See the full interview clip here:

Kurt Cobain's Mother On The First Time She Heard 'smells Like Teen Spirit'
Frances Bean, who also attended the same opening with her grandma and Kurt's sister Kimberly, also talked about the impact of her father's legacy, saying he's "unavoidable".
Opening up about her father, she told Reuters: "He's unavoidable in my life, I see a Nirvana shirt every day."
The 25-year-old added: "My dynamic with Kurt is probably more similar to a fan's dynamic as there's almost like an untouchable thing. All the information I have [about him] is from stories. He's there every day of my life."
She continued: "On some days it feels a little frustrating, like I've had emotional breakdowns in Ubers and he's come on [the radio] and I've been like, 'I needed you so much right now.'"It plays out on different days in different ways".
Frances Bean - who recently opened up about her struggle with addiction - also talked about the shame and stigma associated with it.
"There is an association that is shameful and it shouldn't be," she said.
"It's taboo ... despite the fact that it is present in our society every single day. And I think that in Europe it is a little less taboo, I think in America it is very, very frowned upon".
Asked what she thinks her father would think about the current political situation, she said: "The violation of basic human rights that seems to be a prevalent them in our country right now ... I would like to believe that Kurt wouldn't have stood for that or accepted that".
Watch Frances Bean debut some of her first original material on Instagram: