Peter Hook Alleges Caroline Aherne Abused Him In New Book
3 October 2016, 12:42 | Updated: 4 October 2016, 13:43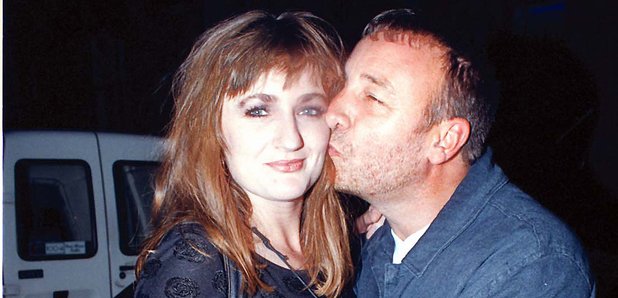 The former New Order bassist has detailed his violent relationship with the late Royle Family star, who died of cancer earlier this year.
Peter Hook has detailed shocking details of his relationship with the late Caroline Aherne, who tragically died of cancer, aged 52, earlier this year.
Speaking in his new autobiography Substance about his relationship with the Mrs Merton comedian, the New Order co-founder has alleged she scratched him, and burnt cigarettes out on his body.
In a chapter entitled "Marry In Haste, Repent At Leisure," Hook explains why he "couldn't in all good conscience" comment on her death, writing: "She attacked me, using her nails to scratch at my neck, tearing off my necklace and ripping my top.
"It was proper shocking stuff."
The former Joy Division man added: "And although she was really contrite the next morning it marked the beginning of some serious screaming-banshee behaviour - putting cigarettes out on my arm, attacking me with bottles, knives, chairs and other assorted furniture."
"It would be set off by the slightest thing - talking or looking at another woman was a favourite."
Summing up his experience with the late Royle Family star, who he was married to from 1994-1997, he added: "I was an abused husband and it's embarrassing, and you feel ashamed, and you can't tell anyone.
"I needed help."
Caroline Aherne had a well-documented history of drink and drug abuse in the 1990s and had attended The Priory for depression and alcoholism.
The writer and actress - who was most recently known as the voice of Googlebox - suffered three battles with cancer, the third of which proved to be terminal.
Aherne died alone at her home of Timplerly on 2 July 2016.
Tributes came from all walks of life, including from her Royle Family cast mates Ralf Little and Ricky Tomlinson, and Noel Gallagher, who dedicated a performance of Half The World Away to her shortly after the news.
Speaking to the crowd at his gig at the Ryman Auditorium in Nashville, Texas, he said:"I'm going to dedicate the following song to a friend of mine who died this afternoon.
"Her name was Caroline, she used this next song in a very very very brilliant sitcom called The Royle Family.
"To wherever you are"
Watch it below: