New Order Announce "Full And Final" Settlement With Peter Hook
20 September 2017, 12:00 | Updated: 20 September 2017, 18:27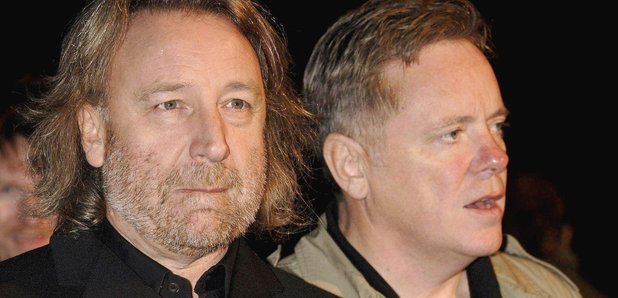 The Blue Monday outfit have revealed they've finally ended their legal dispute with the former Joy Division and New Order bassist.
New Order have announced that their legal dispute with Peter Hook is over.
Taking to their website, the Blue Monday outfit released an official statement, which reads: "New Order announce that today, a full and final settlement has been reached in the long running disputes with their former bassist Peter Hook.
"The disputes were based upon Hook's use of various New Order and Joy Division assets on merchandising and in the promotion of shows by his new band, and the amount of money he receives from the use of the name New Order by his former colleagues since 2011.

"The Joy Division and New Order names mean a great deal to so many of the fans, and the band felt it important to protect the legacy.
"With these issues now dealt with, Bernard, Stephen and Gillian can continue to do what they do best, make music and perform live."
Watch New Order play Disorder live in Manchester:
Peter Hook formed Joy Division alongside the late Ian Curtis, Bernard Sumner and Stephen Morris.
Peter Hook's long-documented feud with his former Joy Division and New Order bandmates began in 2007 when he announced that he was no longer working with Bernard Sumner.
In 2015 Hook sued his "former friends" for "pillaging" the group's name and apparently starving him of cash.
Hook claimed the three other members of the band formed a company, New Order Ltd, "in secret" in 2011, which has since has made £7.8 billion.
The trio then licensed the use of the New Order name to the company, but Hook claimed the move meant he only received 1.25% of royalties "from merchandising and performances", instead of the 12.5% he believed was owed to him.
Hook's barrister Mark Wyeth QC claimed at the time: "It was as though George Harrison and Ringo Starr had got together at George's house one Friday night and had acted together to divest Paul McCartney of his shareholding in the Beatles, and didn't tell Yoko about it either."
New Order's current line-up - comprised of Bernard Sumner, Gillian Morris, Stephen Morris, Tom Chapman and Phil Cunningham - released their last album, Music Complete in 2015 and embarked on a lengthy tour, which included a set at Glastonbury 2016.
Meanwhile Peter Hook released a new autobiography in 2016 entitled, Substance: Inside New Order.
Photo credit: Yui Mok/PA