VIDEO: Muse Go To Prom In Back To The Future-Inspired Pressure Video
27 September 2018, 17:15 | Updated: 18 December 2018, 15:05
Matt Bellamy and co go back to school in the retro video for Pressure, which stars Terry Crews.
Muse have released the video for their new single Pressure, the latest track from their upcoming album Simulation Theory.
Watch the video above.
The brand new album is set for 9 November and includes previously shared tracks Dig Down, Thought Contagion and Something Human.
Continuing their collaboration with director Lance Drake, this video also draws upon a classic pop culture moment from the 80s: the famous scene from Back To The Future.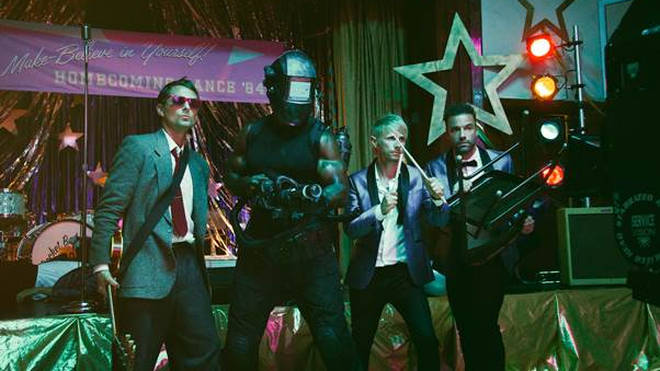 Pressure centres around a high school dance that goes awry and features a guest appearance by Terry Crews.
Meanwhile, the band has announced the first cities they'll visit for their 2019 world tour with more to be added.
their UK shows include London, Bristol and Manchester, while in Europe the band will play in Paris, Madrid, Milan, Lisbon and Moscow and many more across Europe.
Their North American dates will see the band play gigs in cities including New York, Las Vegas, Atlanta, Philadelphia, Toronto and Washington. Full details are listed below with further shows to be announced.
Anyone buying Simulation Theory through the band's store will get early access to tickets for the 2019 tour.
Watch Muse share the reveal the origins of Muscle Museum and Plug In Baby: