WATCH: Muse Aren't Scared Of "Big Pussy" Donald Trump
19 May 2017, 14:42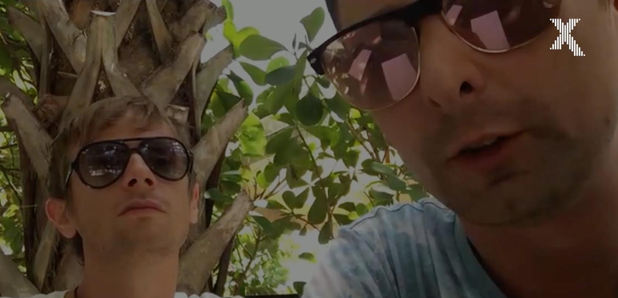 Matt Bellamy and Dominic Howard told Radio X's Gordon Smart how US politics helped inspire their Dig Down single.
Muse say they're not afraid of "big pussy" Donald Trump.
Watch our video to find out why here:
Speaking in a Facetime call from Miami to Radio X's Gordon Smart, Matt Bellamy and Dominic Howard revealed their Dig Down single was partly inspired by the "current situation" in US politics.
Discussing their new track and the line which references a "clown" on the throne, frontman Bellamy explained: "You don't have to read to much into that to see there are some references to the political climate in the US."
The Hysteria rocker added: "That one particular verse applies to what's going on in the world right now and how a lot of people in America and in the world actually feel very anxious about the current situation and nervous about the future.
"But we wanted to do a song that was kind of sending out a positive message. Obviously, all of this crap that we're seeing right now will pass at some point, and if anything dig down and find that inner strength and you can get through anything.
"So I wanted to put a song out that was pretty positive in it's nature."
Asked if they were worried about going through customs after sharing their opinions on the US President, Bellamy replied: "Nah, he's just a big pussy. I think there's nothing to be scared of there".
Watch the video for their new Dig Down single, which was unveiled this week and stars inspirational model Lauren Wasser, who lost her leg due to Toxic Shock Syndrome.
See the lyrics for Dig Down here:
Verse 1
When hope and love has been lost
And you fall to the ground
You must find a way
When the darkness descends
And you're told it's the end
You must find a way
When God decides to look the other way
And a clown takes the throne
We must find a way
Face the firing squad
Against all the odds
You will find a way
[Chorus]
Dig down
Dig down
Dig down
And find faith
When you're close to the edge
With a gun to your head
You must find a way
Verse 2
When friends are fearing the crowd
And they try to divide us
We must find a way
We have entered the fray
And we will not obey
We must find a way
Yeah
Chorus
Dig down
Dig down
Dig down
And find faith
When they've left you for dead
And you can only see red
You must find a way
Dig down
Dig down
Dig down
Find faith
We won't let them divide
We will never abide
We will find a way
Dig down
Dig down
Dig down
Faith
Dig down
Dig down
Dig down
Faith