AC/DC's Brian Johnson Joins Muse For Reading Festival Set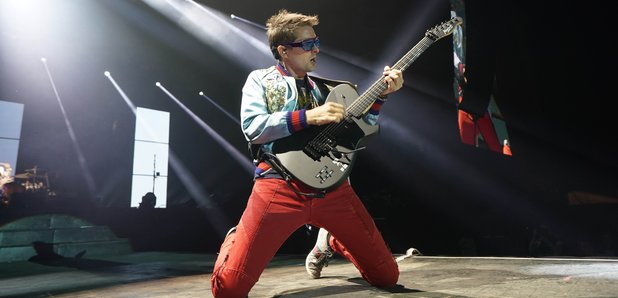 The veteran rocker joined the trio for a raucous version of Back In Black las night…
Muse closed Reading Festival last night (27 August) and delighted the crowd by bringing on AC/DC's Brian Johnson as a special guest.
The singer joined the Teignmouth trio in a version of the Aussie rockers' 1980 classic Back In Black, marking one of the few occasions he has performed onstage since retiring from AC/DC in April 2016 because of hearing issues. Bellamy introduced Johnson by saying "He's back!"
@muse were amazing last night, even bringing out AC/DC Brian Johnson pic.twitter.com/PIeVhfE1u6

— Leanne Lim-Walker (@leannelimwalker) August 28, 2017
At the end of the song, Brian gave Matt a huge hug, and said: "Thank you so much, thank you boys."
Meanwhile, Muse performed their third Reading headline set (following 2006 and 2011's bill-topping appearances) with selections of hits and a rare airing of the title track of their 1999 debut album Showbiz.
Leaning heavily on their latest album, Drones, they also threw in hits such as Plug In Baby, Hysteria, Supermassive Black Hole, Time Is Running Out and Starlight.
The show ended with Uprising and the alway-stirring Knights Of Cydonia.
Their fantastic Reading and Leeds performances were in huge contrast to some of the bad gig experiences that Matt Bellamy recently told Radio X's Gordon Smart about...