Deep Cuts: Six unfamliar Mumford And Sons songs you really should hear
6 May 2015, 11:55 | Updated: 8 May 2015, 12:09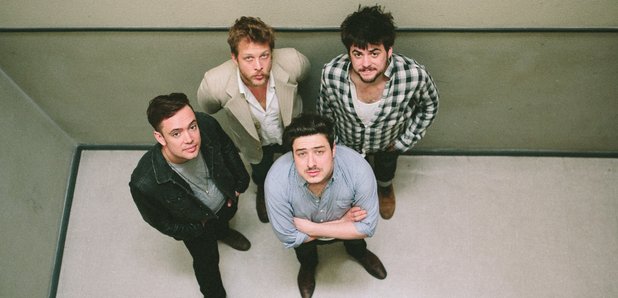 Sick of The Cave. Had enough of Little Lion Man? Mumford And Sons have got A LOT more going on than you realise. Here's half a dozen essential tracks from their back catalogue.
Here at Radio X we've taken the liberty of sieving through the band's back-catalogue and digging out those lesser known tracks that truly define the band. You might just hear something you didn't expect...
Mumford And Sons - White Blank Page
It was Little Lion Man and The Cave that propelled Mumford And Sons into the mainstream consciousness - their combination of anthemic choruses and spiralling folk melodies spoke for themselves. But Sigh No More, the band's 2009 debut, held a wealth of deeper, darker tracks that established the band as proper songwriters. White Blank Page is a moody, desperate look at unrequited love that shows, from the offset, that the band were capable of writing heavier, harder-hitting songs.
Mumford And Sons - Liar
One of the earliest Mumford songs, Liar is a heartbreaking account of the end of a relationship. Although tragically sentimental, what Liar really displays is the band as vivid and unique lyricists. The track is more reserved than the stirring tunes that were to follow, but the bare components that tie it together can still be heard in their music today.
Mumford And Sons - Snake Eyes
Wilder Mind, the Mumfords' third LP, saw a departure from the knee-slapping banjo sound of Sigh No More and Babel. A drum-kit and electric guitars were brought in and leather jackets were thrown on. Snake Eyes bridges the gap between the two sounds perfectly, opening with that familiar, delicate guitar picking fans have come to love, but then dispelling it with a crash of the cymbal. The song's furious conclusion leads Mumford And Sons into an exciting new era.
Mumford And Sons - The Cave (Live at Reading, 2010)
When Mumford And Sons played the NME Stage at Reading Festival in 2010, their debut album Sigh No More had reached its peak. The band were taking off in America and there was no going back. They may have been buried on the bill beneath LCD Soundsystem and Phoenix, but they clearly stole the show. Marcus's humble chuckle during the opening bars of The Cave is a snapshot of a band realising they've made it. The crowd roaring the words is enough to make the hairs on the back of your neck stand on end.
Marcus Mumford - Dink's Song (Fare Thee Well)
If the commercial "radio folk" of Sigh No More and Babel didn't sound genuine enough for you, than Dink's Song (Fare Thee Well) is about as authentic as it gets. Performed with actor Oscar Isaac for the Cohen Brothers film Inside Llewyn Davis (which tells the story of a folk singer struggling to be heard in noisy 1960s New York), the track is a classic American folk song which dates back as far as 1909. Over the years the likes of Bob Dylan and Jeff Buckley have tackled it, but Marcus's rendition is beautifully harmonised and pays perfect tribute to the vintage musical form his band embraces.
Marcus Mumford - When I Get My Hands On You
In 2014 Elvis Costello, Rhiannon Giddens, Taylor Goldsmith, Jim James and Marcus Mumford teamed up to form The New Basement Tapes. The supergroup took handwritten Bob Dylan lyrics from 1967 and made fully formed songs out of them. Marcus's contribution was a track called When I Get My Hands On You. It's a long way from the rolling banjos and rousing choruses of his previous work. The song is simple and refined; a gentle, considered tribute to one of the most important songwriters of all time.