Morrissey Denies Receiving Money From Supreme For Terry Richardson Shoot
16 February 2016, 15:06 | Updated: 16 February 2016, 15:13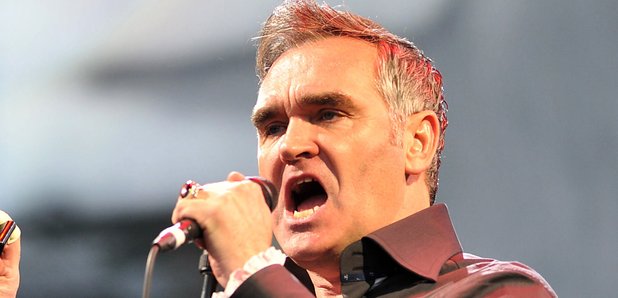 Morrissey has replied to Supreme's statement with another post claiming the brand have "derailed" negotiations.
Morrissey has denied receiving any money from Supreme, following the row over the use of his image on their latest campaign.
The Smiths singer has taken to fan site true-to-you.net to say he doesn't need the clothing brand's money and argue argue that they have "derailed their own negotiations," by using his photo anyway.
In a post entitled "Supreme, yet not" on site , he wrote: "As a matter of fact, I do not have, do not want, nor do I need, any money from the company called Supreme.
'If Supreme have sent money in my name then they could track it down and reclaim it - if they had NOT printed that photograph of me for their 2016 campaign.
"By running prints of the photograph they have derailed their own negotiations. This is why they are angry.
"The photograph is dreadful and will help neither myself nor Supreme. Who needs it? Nobody.
"Supreme were warned by my lawyer and accountant that the photograph should NOT be used. Supreme ignored this advice. Hence this mess.
"I write these statements because there is no one else to write them. The joy I receive from such statements is non-existent."
The post comes after the brand released a statement on their official Facebook page, to defend themselves following Morrissey's claim they used his image without his consent.
Posters from the photoshoot were spotted in major cities last week, with US actress, Chloe Sevigny, even posting a snap.
Supreme then took to their official Facebook page to explain their decision, claiming Morrissey "refused" to return the money he was advanced from the shoot, despite not allowing them to use their images.
Read their full explanation below:

Morrissey originally wrote on fan site true-to-you.net: "I apologize enormously for the enfeebled photograph of me issued this week by Supreme. The shot was taken in October 2015. I considered the photograph to be fit only for a medical encyclopedia and I pleaded with Supreme not to use it.
"This was before I learned that Supreme were sponsored in part by the beef sandwich pharaoh known as White Castle. Supreme were issued with a legal caution not to use the photograph and their fee would be returned. Evidently Supreme have ignored my lawyer. No safety within the corridors of law. Ugh.
I offer excessive apologies for this association. Shame is indeed the name."
This is the photo Morrissey offered instead, reposted by his nephew on Instagram:
Looks like Moz didn't get the one that he wanted this time...